The dual citizenship issue is always on the talk of the town in Nepal. Should Non-resident Nepalese allow to hold dual citizenship in Nepal? It's a big question, Nepalese political leaders, and population & infrastructure policymakers need to make an immense study.
It is undeniable that many Nepalis have migrated abroad for livelihoods or to seek knowledge, skills, training, and professional opportunities. Nepal has few economic opportunities, and its lack of educational opportunities will continue to lead to emigration for some time.
 A Nepalese Ministry of Labor and Transportation Management report indicates that approximately 656 Nepalese leave Nepal daily to seek employment abroad. It is estimated that 300,000 Nepalese have settled in the U.S.A., Canada, Western Europe, Australia, New Zealand, and other developed countries.
Citizenship becomes almost an absolute necessity for many practical reasons – employment opportunities, educational opportunities, parental privileges, pensions, ease of travel, etc. Non-Resident Nepali ("NRN") refers to Nepalis who live in foreign lands and once held Nepali citizenship.
 A person of Nepali origin (PNO) is a person who is born outside Nepal and can prove Nepali origin one generation or more ago.
NRNs who acquire citizenship in their adopted countries remain emotionally connected to their birth country Nepal, which they generally consider their motherland. NRNs stay in regular contact with their families in Nepal, visit frequently, stay up to date with the latest developments/news, assist in development work, and support the country to its best abilities.
Additionally, NRNs who have succeeded overseas seek to reconnect and contribute meaningfully to Nepal's reconstruction.
Do dual citizenship rights exist in Nepal?
Owning a property in Nepal is not possible if you hold dual nationality. Nepal does not allow dual citizenship at the moment. Alternatively, you can keep Nepalese citizenship and renounce foreign citizenship. It is also possible to renounce Nepalese nationality and foreign nationality retained. In the Immigration sector, you will be breaking Nepali law if you declare both citizenships.
Dual citizenship is illegal under Nepali law. Citizens of Nepal who acquire the citizenship of any foreign country voluntarily will lose their citizenship of Nepal as per section 10 of the Citizenship Act 2063 (2006 A.D.).
Since the formation of the NRN, we have seen the debate over dual citizenship among NRNs as a major agenda. Dual citizenship has also taken the front seat on the NRNA agenda as the NRNs who have embraced new citizenship wish to maintain close ties to Nepal.
 Dual citizenship has stirred controversy because Indians could become Nepali citizens if dual citizenship is allowed. Nepal and India share an open border, which is the primary reason for this concern.
Read Also: This is how to get a Nepalese Police Clearance Certificate from overseas
Is dual citizenship legal for the NRNs (Non-Residentals Nepalese)?
In the sense that NRNs have immigrated out of Nepal, their claim to citizenship essentially amounts to returning Nepalis reclaiming their nationality.
NRNs are granted dual citizenship if they prove that they were once Nepalese nationals and lost that citizenship after becoming citizens of their adopted countries.
Freedom of movement within and outside of Nepal comes with dual citizenship. Nepal can offer dual citizenship in a restricted form to make it more feasible. People with dual citizenship gets barred from holding government jobs, running for political office, and exercising political rights.
How to acquire citizenship for Nepal to become a legal Nepalese citizen?
As a citizen, you have access to many benefits the state provides, such as participating in the state's functioning. In Nepal, the Nepal Citizenship Act, 2006 governs all aspects of citizenship issuance, rectification, termination, and regulation.
There have been many controversies surrounding the current citizenship law. Another central argument is obtaining citizenship under one's mother's name.
Presently, three options exist for becoming a Nepalese citizen despite all the controversy:
1. Citizen

by descent
Nepalese citizenship certificates issued so far have primarily fallen into this category. If they choose to apply, anyone born to a parent with Nepali citizenship can become a citizen of this country. It used to be possible to obtain citizenship by proving the applicant's father was a Nepalese citizen. Following the Nepal Citizenship Act, 2006, one may now obtain citizenship using their mother's name.
By descent, a Nepalese citizen must meet the following requirements: –
People with Nepalese citizenship through their parents

A person whose father or mother were both citizens of Nepal at the time of his or her birth, and both parents are citizens of Nepal at the same time.
Read Also: All you need to know about Nepali Congress Party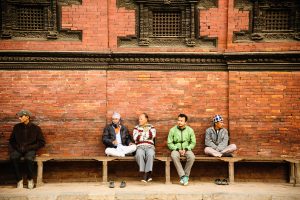 2.  Birthright citizenship*
Following are the requirements to acquire Nepalese citizenship by birth:
A person born in Nepal whose parents hold Nepalese citizenship.

Any person who is resident in Nepal permanently and has reached the age of 16

The minor will be considered a Nepalese citizen until any minor living in Nepal has a legally established paternal or maternal relationship; the minor will be regarded as a Nepali citizen.
3. Naturalised citizenship
Citizenship acquired by naturalisation means that an individual cannot receive citizenship by birth or descent after legal procedures.
If she submits the marriage certificate and proof of renunciation of her foreign citizenship, the foreign national married to a Nepalese citizen can apply for naturalisation.

Your citizenship is Nepalese if you are the child of a Nepalese citizen and a foreign citizen or a permanent resident of Nepal if you do not have citizenship of another country.
Within the category of naturalised citizenship, there is an honorary citizenship subcategory. The citizenship may be acquired by any foreigner aged 16 years or over who has made an outstanding contribution to Nepal's economy, literature, or social development, provided:
– They can speak and write in any Nepalese language.
– They have a job in Nepal.
– A Nepali who renounced citizenship of their home country has acquired naturalised citizenship of a country that grants naturalisation to Nepalese.
– It is at least 15 years since they have lived in Nepal.
– Their character, conduct, and mental soundness are excellent.
– A naturalised citizen's children may also apply for naturalisation.
– One can also apply for Nepali citizenship in exceptional cases, such as when Nepal is granted a new piece of land. Citizens of Nepal will then be considered those living on the territory.
Citizenship certificates are among the essential documents anyone can have. Individuals with citizenship are officially recognised as members of the state. Individuals are subject to the rights and responsibilities set out in the state's constitution and laws, including the right to vote. However, dual citizenship holders are prevented from voting rights. 
NepaliPage,connects Australian Nepalese Community & Australian Nepalese Business Globally
Disclaimer: NepaliPage.com (नेपालीपेज डटकम) is a Nepalese Community website aggregating Nepalese Australian affairs including Australian Nepali Community News, Migration opportunities in Australia, Nepali International Students, Nepali home and garden, Nepali mortgage and real estate tips, tricks, and services, Travel, Entertainment, Nepalese Events, blogs, interview and many more. None of our stories is tailored expert advice for your circumstance, and cannot be taken as legal, migration, or any other expert advice. By nature, all of our contents provide general information on related topics from the various verified sources. We do not offer direct employment opportunities, Australian VISA help, and Migration assistance.