Many people lost their jobs because of the COVID-19 pandemic globally; in Australia, the number almost crossed 2 million, experts assume. Though the Australian government has announced Jobkeeper and Jobseeker payments for its residents and citizens, that's only sufficient to sustain not for living. International students, as well as temporary visa holders who are not covered by those two payments, need to find another job or arrangement to maintain their living. Though many businesses in cities lockdown to stop the virus spread, farm work in Australia would be another option for students and temporary visa holders as well as those who lost their income source by the pandemic.
What is farm work?
Like Australian cities, Australian regional towns and farming hubs need workers throughout the year. The only difference is cities need eatery and hospitality workers and regional needs farmworkers, packers and pickers in their farmland, processing plants, factories, and storage. Most of the farm work is seasonal, but available throughout the year only needs to change location based on crops and harvesting calendar.
As a farmworker, you need to do jobs like picking fruits and vegetables, packing fruits and vegetables in sheds, canneries, or processing plants. Australian farm work could be physically demanding and mostly outdoors on the farm.
How to find farm work in Australia?
If you are looking for farm work in Australia first and foremost thing you should keep in mind is you are not going to approach directly to the farm. The best way to find a farm job in Australia is to follow the Harvest Trail. Registering yourself with agencies that supply workers to farms is one of the right ideas. Agencies could arrange your work throughout the year in different states and regions.
You can find farm job listing on hostel noticeboards, regional information centers, and popular classified websites like Gumtree. Job search sites like Seek; Indeed, Jora also are a useful tool to reach farm owners.
Be careful before applying research and ensure the company and its registration, ABN details to avoid being scammed.
Seasons for farm work in Australia
In agriculture and horticulture industry season plays a significant role, depending on the season you will get a job in regional Australian farms. While you work as a farmworker in the Australian regional area, you will gain skill, experience Australian rural life, and make some money for your future. The following chart shows harvesting time in different states based on which you can get farm work in Australia.
New South Wales Harvesting Season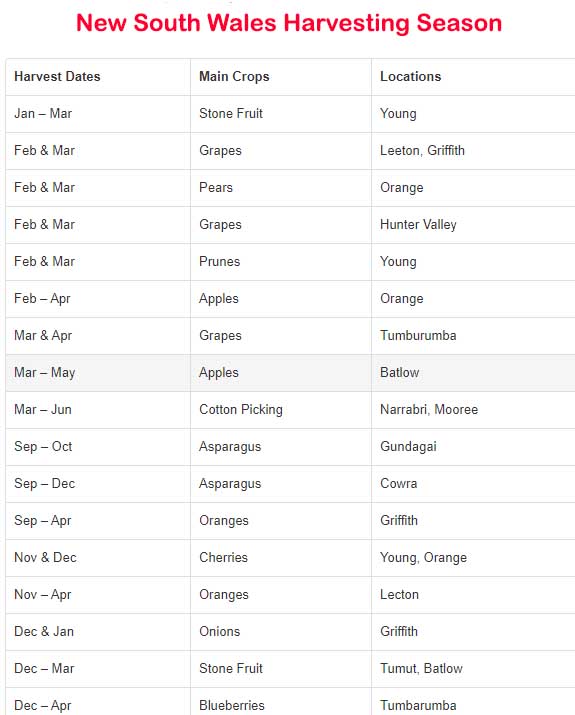 Read Also: Agencies to get job in Darwin NT
Northern Territory Harvesting Season 
Queensland Harvesting Season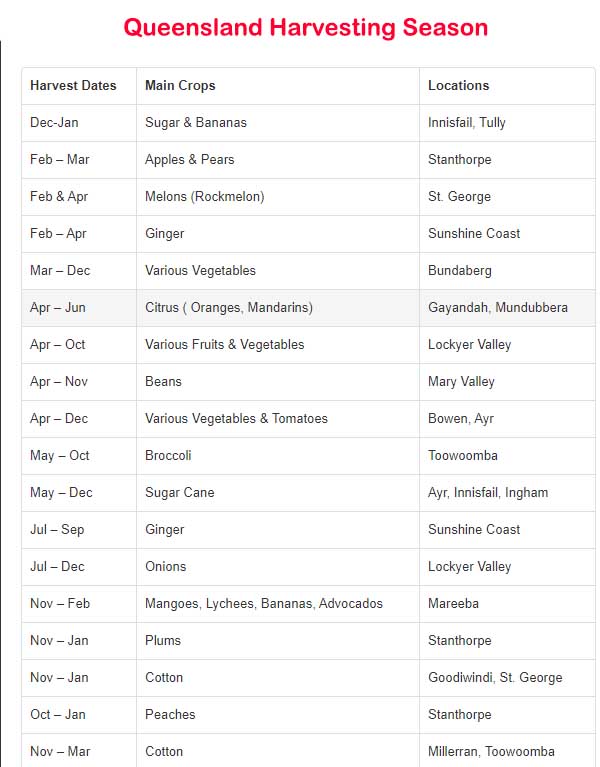 Read Also: 5 reasons why Australia is the best country to move in
South Australia Harvesting Season
Read Also: 17 agencies to approach, for a job in Tasmania
Tasmania Harvesting Season
Read Also: 60 websites to find a job in Australia for you
Victoria Harvesting Season
Western Australia Harvesting Season