Australian farm jobs are one of the largest sector for employment. Australian agricultural sector employed about 239,000 people in 2021  as per the Australian Bureau of Statistics 2021 Census of Population and Housing (Census).
Australian farm jobs for foreigners are one of the option to get employed in Australian agricultural sector. There are many employment and labour agreement in action to employ people in farms and agricultural sector. Australia is not only a country its a continent, has different seasons and farming options so one can get farm jobs in Australia year around. Different state has different harvesting season, so one can get opportunity to explore Australia along with job opportunity.
What is farm jobs?
Farm jobs are involving various tasks in agricultural farms, they mostly need physical work. But good part of such kind of jobs is opportunity to explore Australian regional towns and lifestyle. Australian regional towns and agricultural hubs need farm workers around the year including farmworkers, packers and pickers in the farmland, processing plants, factories, as well as storage. Though the farm work is seasonal job sector, but one can get job throughout the year by changing state and town based on harvesting calendar.
As a farm worker you need to involve harvesting activities such as picking fruits and vegetables, packing fruits and vegetables in sheds, canneries, and processing plants. Some may have to be involved in driving farming equipment and vehicles. Jobs in horticulture, aquaculture, livestock, poultry, meat processing and many other sectors are considered as farm jobs.
Read Also: Jobs in Country Side in Australia
How to find farm jobs in Australia?
Its not that hard to find a farm job in Australia. There are many specialised recruitment agencies to hire labour and employee in farm sector. Around the year such agencies search, advertise and find required people and skill to fill the worker gap in various locations and seasons. If you are after farm jobs you need to keep on eye on such specialised recruitment agencies. Agri Labour would be one option, there are few more.
As another option, there are many job boards online specialised on farm requirement one of the he best way to find a farm job in Australia is to follow the Harvest Trail.
If you are travelling regional Australia or Australian outback you can see vacancy notes on hotel noticeboards, regional information centres, even some farm owners place short note on their gates, and there are Gumtree,  Seek; Indeed, Jora and many listings always.
Be mindful, these days scams around everywhere, on socials, listing websites and even in recruitment agency sectors so, be extra vigilante and check all details of the employer.
Seasons for farm job in Australia
Farm jobs are seasonal, as farming is based on seasons. But, Australia is huge country, it has totally different seasons in different states and corners. There are pretty high chance to get farm jobs year around to keep you busy and getting paid.  Here are detailed harvesting seasons listed based on different state and crops:
New South Wales Harvesting Season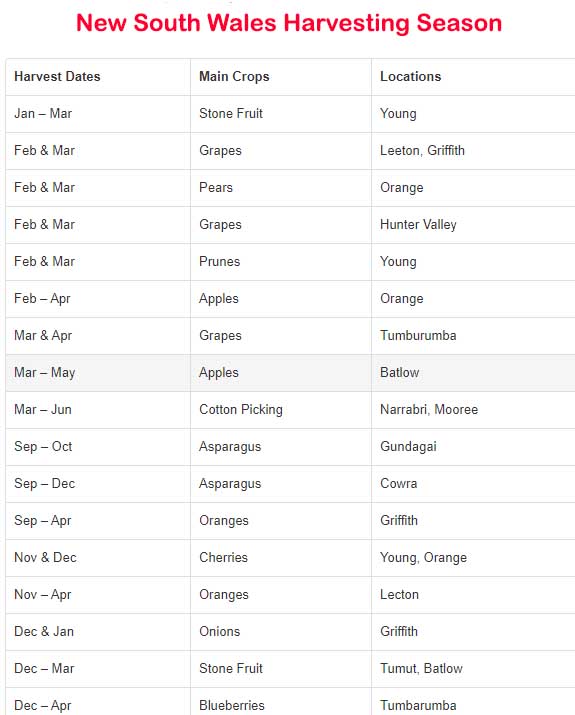 Read Also: Agencies to get job in Darwin NT
Northern Territory Harvesting Season 
Queensland Harvesting Season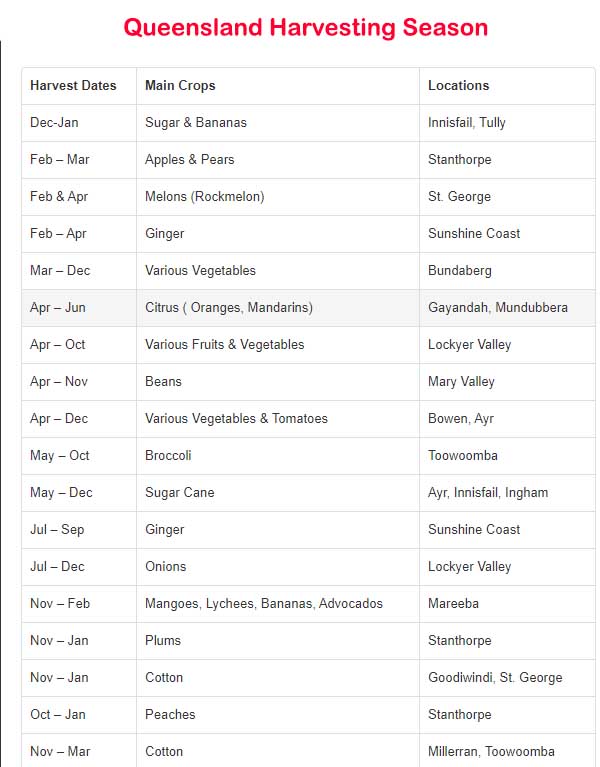 Read Also: 5 reasons why Australia is the best country to move in
South Australia Harvesting Season
Read Also: 17 agencies to approach, for a job in Tasmania
Tasmania Harvesting Season
Read Also: 60 websites to find a job in Australia for you
Victoria Harvesting Season
Western Australia Harvesting Season

Things to consider before planning for Australian farm job
If you are planning to explore Australian outback and regional towns at the same time engaging in farm jobs to fund your Australian experience you should check your eligibility, rights and responsibilities as well as working conditions. So. you do not regrate later. Here are some points you should consider:
 Check your Visa & eligibility: Visa and other eligibility criteria plays significant role in joining farm jobs. Make sure you are an eligible work visa holder. Check the Australian Department of Home Affairs website for information on visa conditions and work rights, whether your visa allows you to engage in Australian agriculture sector.
Research on job opportunities: Make your own inquiry on jobs and available roles in agricultural sector. There are online job boards, recruitment agencies, and government websites which provide A to Z of farm jobs in Australia. Some of the picks to start with may be Agri Labour Australia, Rural Enterprises, and Harvesting Trails.
Make a tailored resume: Customise your resume for farm jobs highlighting relevant skills and experience. Do not forgot to mention your physical ability, work rights, idea on local geography, and community.
Apply for relevant roles: You would see many farm job roles available either online or on job boards on hotel, community information centre but apply to only those that matches most of you skills and experience.
Interview Preparation: Be prepared to sit on a job interview while you apply for the job. You may be asked about the roles, your experience, why you want to join in the particular area, your physical fitness, visa and work rights in Australia. Some may take behavioural and physical fitness test. They may ask questions or take a test on drug use.
Obtain necessary license or certifications: Though it depends on the role applying, there are many roles and jobs in farm that requires license or certification. Generally you need 'C' class unrestricted driving license for sure, they may ask for a forklift license or first aid certificate.
Flexible availability: In farms you may need to work for longer hours, during weekends and public holidays as well as remove location and isolated from team. Be prepared and tell the employer you are flexible about shifts and longer or shorter hours.
You will get award pay while working in farms. There are different loadings such as weekend or public holidays. To be updated with payment and working conditions always refer to local legislation and fair work.
NepaliPage,connects Australian Nepalese Community & Australian Nepalese Business Globally
Disclaimer: NepaliPage.com (नेपालीपेज डटकम) is a Nepalese Community website aggregating Nepalese Australian affairs including Australian Nepali Community News, Migration opportunities in Australia, Nepali International Students, Nepali home and garden, Nepali mortgage and real estate tips, tricks, and services, Travel, Entertainment, Nepalese Events, blogs, interview and many more. None of our stories is tailored expert advice for your circumstance, and cannot be taken as legal, migration, or any other expert advice. By nature, all of our contents provide general information on related topics from the various verified sources. We do not offer direct employment opportunities, Australian VISA help, and Migration assistance.