Tyler Reysenbach, Grattan Institute and Brendan Coates, Grattan Institute
The biggest review of Australia's migration system in decades is due to be delivered to the federal government.
Commissioned by the Albanese government last September, its task is to identify reforms that will increase economic productivity, address challenges such as an ageing population, and make Australia a more desirable destination for highly skilled migrants.
But perhaps its thorniest job is how to provide temporary migrants with clear pathways to permanent residency and citizenship. This won't be easy, given how much the number of temporary migrants in Australia now outstrips the permanent visas on offer.
It's impossible to run an uncapped temporary migration program with a capped permanent program and offer all long-term temporary visa holders a road to permanent residency.
Something has to give.
Simple arithmetic: demand exceeds supply
About 1.9 million people – 7% of the population – are living in Australia on temporary visas with work rights.
About 680,000 are New Zealanders, who can get a visa automatically as part of a reciprocal agreement between Australia and New Zealand. The other 1.2 million migrants comprise international students, temporary skilled workers and working holiday-makers, among others. There is no cap on the number of these temporary visas granted. Before the COVID-19 pandemic, the federal government was issuing about half a million each year.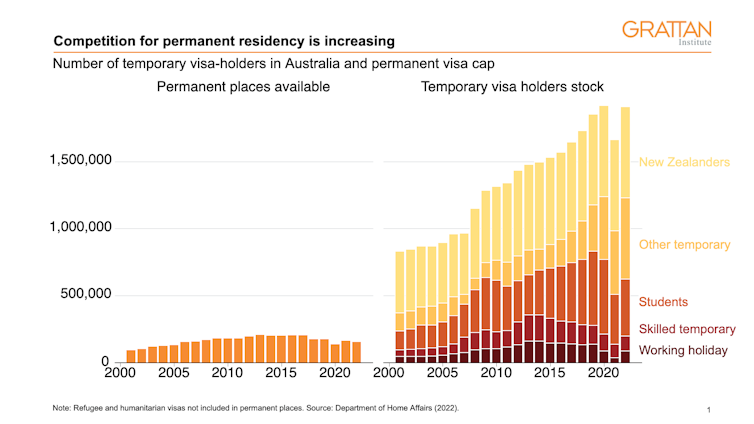 This is far in excess of the cap on permanent visas offered. In 2019, the Morrison government reduced the cap from 190,000 to 160,000 places a year. The Albanese government raised it to 195,000 for the 2022-23 financial year. It remains to be seen what will happen in future years.
The queue is getting longer
Not all temporary visa-holders want to stay in Australia, but many do. Most migrants are already in Australia on a temporary visa when they receive their permanent visa.
But with a greater number of temporary residents vying for permanent residency, the wait times are rising, and migrants' prospects of success are declining.
About 42% of migrants granted a temporary skilled visa in 2008 got a permanent visa within four years. Of those who arrived in 2014, just 36% secured permanent residency within four years.
The decline was worse for those on student visas. About 25% of international students who arrived in Australia in 2007 had become permanent residents six years later. For those who arrived in 2012, just 12% were permanent residents six years later.
Read Also: Migration boost is bad news for Australia's environment – we mustn't ignore that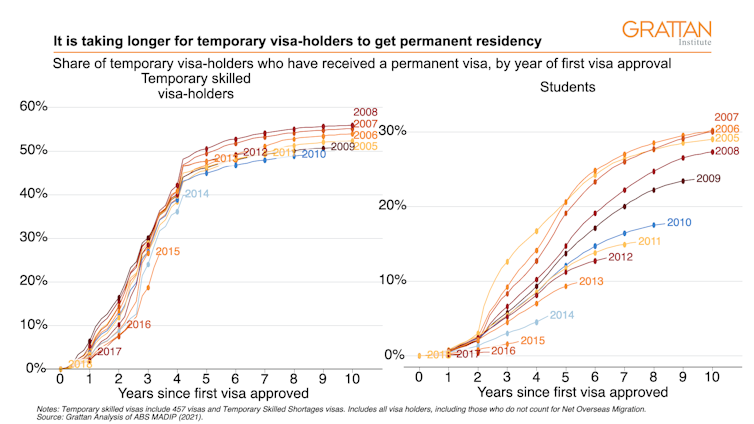 Unclear, uncertain and longer pathways to permanent residency exact both personal and social costs. They disrupt migrants' lives and careers, making migrants less productive. For example, a temporary skilled visa holder might want to switch to a job that better suits their skills, but can only qualify for permanent residency if they stay put. We're depriving society of the migrant's full potential.
Many employers are reluctant to hire international graduates on temporary visas, instead hiring applicants who already have permanent residency. This helps explain why a quarter of recent graduates (on temporary graduate visas) are either unemployed or not looking for work. Most that do work earn no more than working holiday-makers, despite being more qualified.
What to do about it?
Offering a permanent visa to every long-term temporary migrant who wants one would require an enormous, and unpopular, increase in Australia's permanent intake.
Even a smaller, more realistic, increase in the permanent intake would come with costs – notably more expensive housing.
Capping temporary visas would reduce pressure on already-rising rents. But it would also make it harder for some employers and mean fewer international students paying fees to universities.
So what should we do?
We should continue to give priority to younger, skilled migrants for permanent visas. Pathways to permanent residency should not be automatic nor based on how long temporary migrants have been in Australia. A guaranteed pathway to permanent residency in Australia will only encourage more people to come here on temporary visas, and those already here to stay even longer.
We should also avoid creating new temporary visa programs for less skilled workers in areas such as agriculture or the care economy, because they only add to demand for more permanent visas down the track.
We must acknowledge that not all temporary migrants can stay in Australia, even if they want to.
Read Also: Top 10 Most In-demand IT Jobs in Australia
Change the selection criteria
The best permanent visa system is one that selects migrants most likely to contribute to the nation's long-term success.
The current policy grants permanent skilled work visas on the basis of occupation. This should change to whether migrants can earn a good wage – demonstrated by a sponsoring employer being willing to pay them at least A$85,000 a year.
This would mean temporary migrants are no longer at the mercy of official occupation lists, which can change at any time. A sponsored worker and their employer could be confident they qualify for permanent residency. Employers will be more confident about hiring graduating international students if they know they can sponsor that employee for permanent residency within a couple of years.
Another reform would be to allow temporary skilled migrants to work in any occupation, provided they earn more than A$70,000 a year, so they can build their skills and careers in Australia before securing permanent residency.
Creating a better system for points-tested visas – which is how many students secure permanent residency – would also help. The current system encourages migrants to gain points through spending thousands of dollars on low-value courses, or by moving to regional areas where there are fewer job opportunities.
Instead, there should be a single points-tested visa, where points are only allocated for characteristics that point to a migrants' future success in Australia.
The aim of the migration system should be to create clearer pathways to permanent residency in Australia. But that doesn't mean that everyone who wants to stay can do so.

Tyler Reysenbach, Research associate, Grattan Institute and Brendan Coates, Program Director, Economic Policy, Grattan Institute
This article is republished from The Conversation under a Creative Commons license. Read the original article.
NepaliPage,connects Australian Nepalese Community & Australian Nepalese Business Globally
Disclaimer: NepaliPage.com (नेपालीपेज डटकम) is a Nepalese Community website aggregating Nepalese Australian affairs including Australian Nepali Community News, Migration opportunities in Australia, Nepali International Students, Nepali home and garden, Nepali mortgage and real estate tips, tricks, and services, Travel, Entertainment, Nepalese Events, blogs, interview and many more. None of our stories is tailored expert advice for your circumstance, and cannot be taken as legal, migration, or any other expert advice. By nature, all of our contents provide general information on related topics from the various verified sources. We do not offer direct employment opportunities, Australian VISA help, and Migration assistance.