Police clearance certificate is one of the essential documents for various application such as
Have you applied for a job abroad and been asked for police verification? Don't worry about contacting relatives in Kathmandu, collecting a letter, and sending it. The Nepalese Police introduced an electronic verification service for Nepalese living abroad.
Using this electronic verification service, you can determine how personal verification works in foreign countries. Whatever the reason is, it's a job, a permanent residency, or a temporary visa.
The outcome cannot get predicted with character screening or police records from Nepal. In particular, visa applicants from countries such as Australia, the United States, and Canada.
It is now simpler, faster, and smarter for Nepalese living abroad thanks to the Nepal Police streamlined process and electronic system. New service allows police clearance certificates to be sent by email from the Nepal Police Crime Investigation Department.
The Nepal Police now provides Nepalese Police Reports to Nepalese living overseas online, easy to apply and faster dispatch. To make easier for Nepalese living overseas to get police reports in Nepal, the Nepal Police has introduced a new online registration system. Using this new system, you do not need to enlist the help of relatives in Kathmandu to get a Nepalese Police Report that you must submit when applying for any residential status in any corner of the globe.
Read Also: Now, it's easy to get Nepalese Police Report from abroad
Before Nepal Police Report was email based?
Just before to this new online character verification system, Nepal Police used to have an email-based system, and applicants need to send an email with the application and necessary documents. Even back days, applicants had to have their relatives in Kathmandu deliver a physical copy of the Nepalese Police report and courier the copy overseas.
As soon as they received an email and application form, they emailed explaining the process and the digital Character Verification Certificate in return. There was a reliability problem with email-based services because the maximum size of the email and attachments was too small. Applicants of the Nepal police may not receive their email application if they make a small mistake or neglect the email size. The applicant never knows whether the Nepal Police team received the email.
Since it keeps track of the applicant and updates the process throughout, the new online police clearance system appears more reliable.
Any visa application in Australia, the USA or Canada needs a character report or police check to verify the applicant's identity. Having it online in three business days is incredible. Furthermore, you are not required to pay a dime for it; it's free.
Check Video: How to register for Nepalese Police Clearance Certificate
What you need to submit for a Nepalese Police Report
Below are the documents you need to attach to the character verification request from Nepal Police:
Nepalese Passport Pages: Included are pages 2, 3, and 31 (the Bio Page, Next of Kin Page, and the Seal of the Passport Issuing Authority).
An official departure stamp from Nepal from your last departure from Nepal
Citizenship Document
Certificate of Marriage Registration (if married)
Color photograph of passport size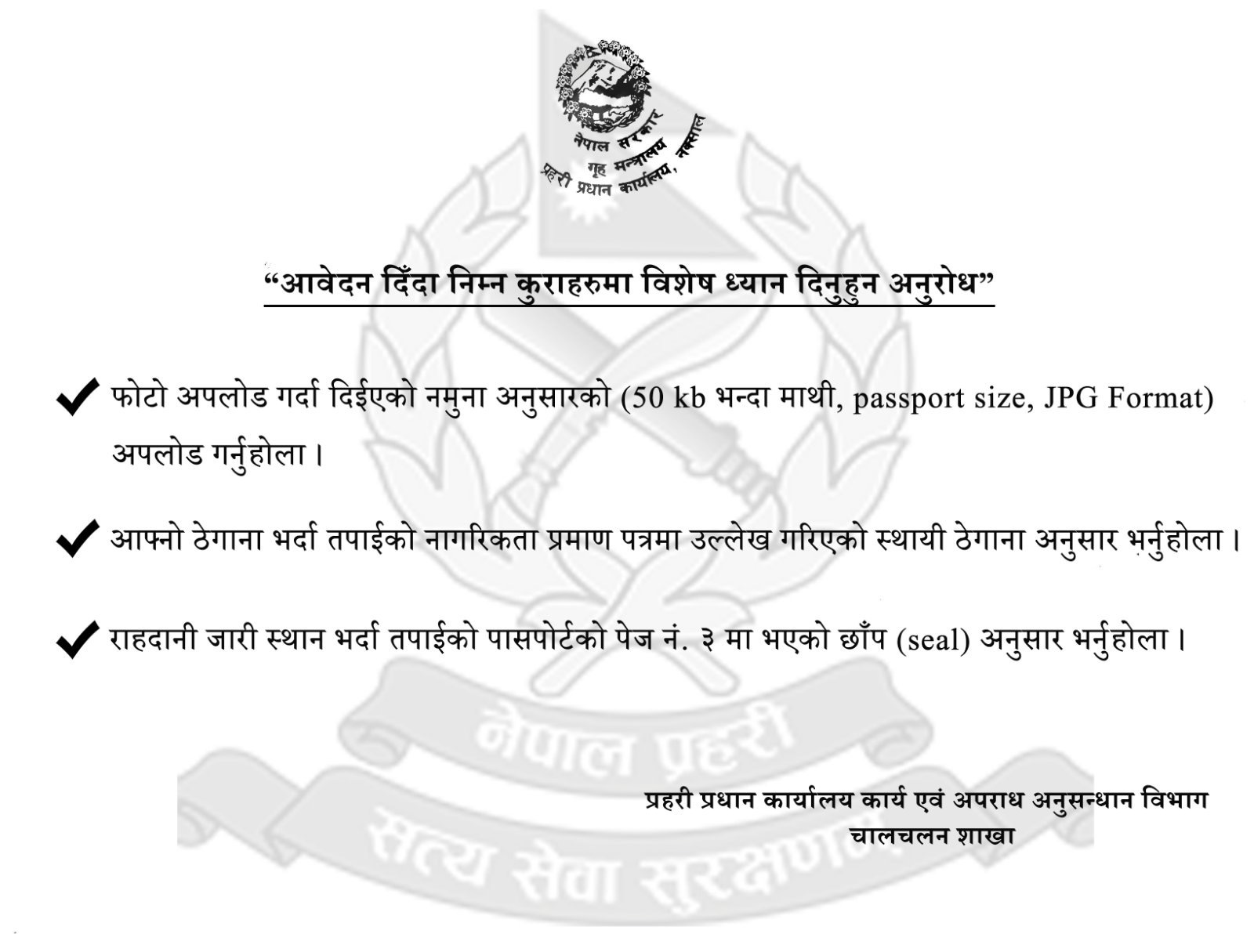 What is the process for requesting an online police clearance report?
For more information about the Nepal Police, visit http://nepalpolice.gov.np.
Click the "Apply Online" link on the right-hand side of the homepage under "Need Public Services."
You can also log in directly at http://opcr.nepalpolice.gov.np
If this is your first time using the site, click "Register."
Please enter your details and captcha.
Click "Register", and you'll receive an email with a temporary password.
Access the website from this email address and change your password there
Next, fill in the application details and submit the required documents where required.
Click "Submit" when you've completed all the fields and enter the captcha.
If you would like to find the outcome of your application, please visit Online Police Clearance Registration System again it will show what's going on.
It usually takes 3–4 business days to hear back about your application. If you check your dashboard, you can see how your application is going. Once the report has been finalized, you can download it.
Additionally, you can check on any messages you have received if there are any issues with the application process. You can edit your form as needed, or you can submit the required documents.
You need a police clearance report whether you are studying abroad, traveling abroad, or even an immigrant working abroad. You need a police clearance before you are allowed to enter a country to prove you do not have a criminal record.
You are validated as an individual regardless of whether you are law-abiding or not. This statement demonstrates your ethical standards and responsibility as an individual, an immigrant, a visitor, a worker, or a student.
FAQs on Nepalese Police Clearance Certificate  
Police Clearance Certificate from Nepal is one of the most important documents for Nepalese living abroad need to submit while applying for visa or permanent residency, even for the citizenship. But obtaining police check from Nepal is not that easy people think. Let's have a look into some frequently asked questions about the Police Clearance Certificate from Nepal.
What is Nepali Police Clearance Certificate?
A police clearance certificate (PCC) is an official document from the police department as a background check mostly on involvement in criminal activities like drugs, murder, rape or any other for those who are immigrating to another country. PCC serves as proof of a person's good character and being clean, i.e., not involved in any crimes in their native. In Nepal, Police Clearance Certificate (PCC) is provided by the Nepal Government and issued by Nepal Police Headquarters and Criminal Investigation Department, Kathmandu.
Why Police Clearance Certificate from Nepal important?
1) It is necessary for those who want to change their country of residence.
2) You will need a police character certificate if the Immigration office invites you to complete your application as a worker for temporary or permanent residence.
3) You will also need to upload a Police character certificate if you are to proceed on a postgraduate program in any foreign institution.
4) You will need a police character certificate to show that you don't have a criminal record.
Who is Eligible for Police Clearance Certificate?

Any applicant with a valid passport and address proof.
An applicant of 16 years and above. If a child has not reached the age of 16, the application must be made by the parent exercising parental authority.
The applicant's current address must be the same as in the passport and other supporting documents.
Applicants who need an educational visa, residential status, employment, or long-term visa or for immigration to a foreign nation.
What Documents are Required for Police Clearance Certificate? 
For General Nepalese citizen
Application form police clearance certificate
Valid passport
Valid Citizenship Card
Marriage Registration Certificate (For Married People)
Passport-size colour photos
Email ID and valid contact number to communicate issues concerning your application
Birth certificate (as per requirement)
A self-addressed envelope with or without stamps. (As per requirement)
For Nepali people abroad
Citizenship Card
Passport size colour-photos
Marriage Registration Certificate for Married people
Nepali Passport Pages: Page numbers 2, (Bio Page) 3(Passport Issuing Authority Seal page) and 31(Next of Kin page)
For Foreign National
A Scan copy of the Unexpired Passport
A Scan copy of the Arrival and Departure with a stamp of the Nepal Immigration Office on the Passport while entering and leaving Nepal.
A recommendation letter from the Applicant's Organisation.
Passport size colour photos
How to apply in-person Police Clearance Certificate (PCC) in Nepal for citizens and non-citizens?
An applicant should contact and go to the "Verification Section, Crime Investigation Department, Police Headquarters."
Take all the required copies of documents along with originals to the office.
Submit the completed application along with documents.
Applicant should pay for any charges if required as advised.
Upon notification, the certificate can be picked up in-person.
How to apply for PCC in-person for overseas citizens and non-citizens?
Visit the nearest embassy or consulate in person.
Obtain an application form from the embassy. You can call the office and set an appointment for a personal visit. Find out the details for this procedure.
Go to the office with all the documents in original and in the copy on the scheduled date.
The respective department will process this application.
The applicant will be sent a notification about their certificate. They can collect the certificate on the given date.
How Can I Get a Police Clearance Certificate Online?
You can obtain a Police Clearance Certificate (Police Character Certificate in-person. However, an in-person application may not be accessible to everyone, so you can opt for the online application process.
Steps to obtain Police Clearance Certificate Online
First, visit the official website: https://opcr.nepalpolice.gov.np/.
Click on Register and fill in all the required information and the captcha.
After filling in the information, you are sent an email from Nepal Police (OPCR) with a temporary password. You can then change your temporary password to a new one.
Now is the best time to fill in the correct details asked on the five-step: Personal Information, Address, Documents, Self-Declaration, and Confirmation.
Upload clear and correctly sized images and documents.
When filling out the stamp for a password, consider page 3 of the passport.
Mention any criminal past you may have in the self-declaration area.
Double-check all the information after you have finished filling out all the fields. Click confirm once you have completed all the fields.
You can view the application status as "In Progress".
Your documents will be verified at the Police headquarters, and it may take some days. You can then check the status of your application, and if everything is correct, you can see "Completed" on the application status.
You can then download a police clearance certificate from the site. Then you can print it and have it physically with you.
How much should I pay to get a Nepali Police Clearance Report?
The fee or charge for getting PCC online is free. For more information, visit https://cib.nepalpolice.gov.np/.
How long should I wait to get a Police Clearance Certificate while living abroad? 
As per Nepal Police, after you have given accurate information, within 3 days, you can get your police clearance certificate. However, if there is a holiday or any other special occasion, it may take 5 to 7 days.
What is the Expiry Date of Nepali Police Clearance Certificate? 
Police clearance certificate is valid for 12 months from the issue date.
NepaliPage,connects Australian Nepalese Community & Australian Nepalese Business Globally
Disclaimer: NepaliPage.com (नेपालीपेज डटकम) is a Nepalese Community website aggregating Nepalese Australian affairs including Australian Nepali Community News, Migration opportunities in Australia, Nepali International Students, Nepali home and garden, Nepali mortgage and real estate tips, tricks, and services, Travel, Entertainment, Nepalese Events, blogs, interview and many more. None of our stories is tailored expert advice for your circumstance, and cannot be taken as legal, migration, or any other expert advice. By nature, all of our contents provide general information on related topics from the various verified sources. We do not offer direct employment opportunities, Australian VISA help, and Migration assistance.