Invitation round result for the month of October this year by the Department of Home Affairs has shown a dramatic increase in invitation places. Department invited 4340 skilled migration aspirants to apply for skilled independent visa 189, this is a permanent residency visa. On September the invitation number was 2490, but the invitation for provisional 489 visa remains 10 each month since July 2018. The department runs invitation round for skilled independent visa 189 and skilled regional provisional visa 489, 11th of each month. 
Engineers and IT occupation were seemed benefited by the invitation influx. The minimum point score for the invitation for Electronics Engineer, Industrial, Mechanical and Production Engineers, Software and Applications Programmers and Computer Network Professionals has jumped off to 70 from 75 last round. Those who claimed their migration points 70 on their expression of interest for the skilled independent visa through Skillselect were a big winner in this round.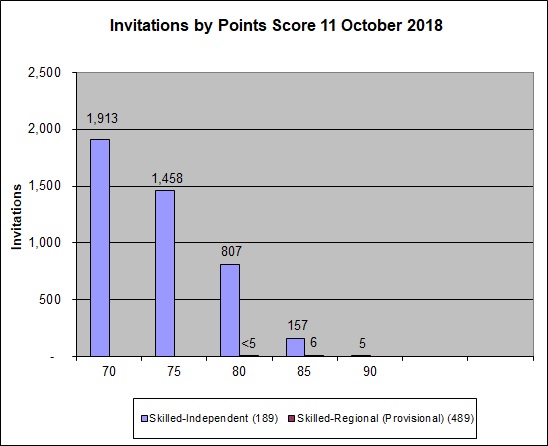 Data and Graph: Department of Home Affairs
They account 1913 places where 1458 places of invitation for 75 pointers. Accounting still stands on 80 points. IT, Accounting and Engineering are the popular occupations in Australia for permanent migration and department invites applicants on the base of pro rata setting. To get invitations to apply for the visa for these occupations need to have higher point score than the non pro-rata occupations such as Barristers and Nurses.
Read Also: Most sought occupations in Australia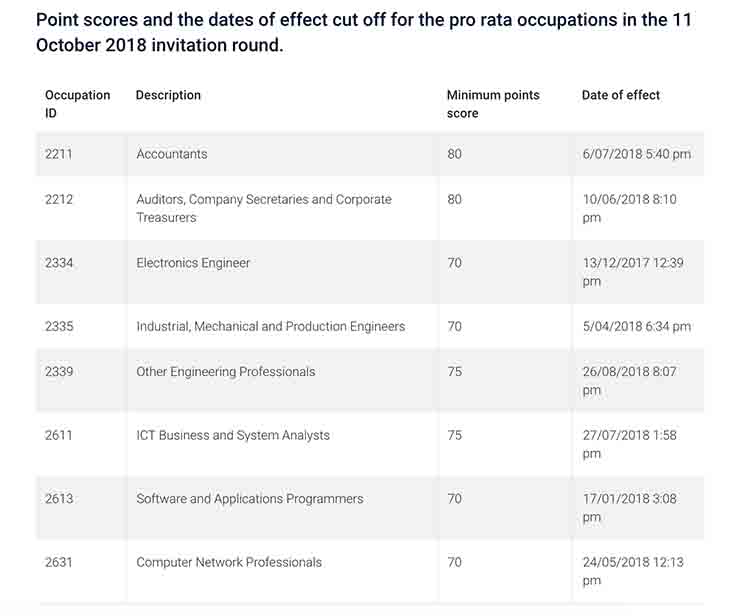 Data and Graph: Department of Home Affairs
Migration agents and EOI applicants for SkillSelect are assuming the similar 4000 plus invitations for the following month of November. There is an assumption that spikey drops on December round, that the round only produced 800 invitations.
Read Also: Moving Interstate? Darwin, Tasmania or ACT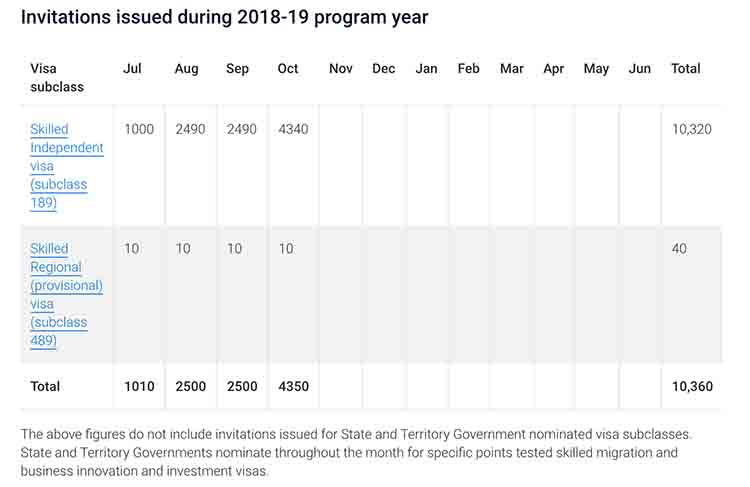 Data and Graph: Department of Home Affairs
Since last year, the competition for being invited to apply for the skilled visa has increased. International students and a skilled worker from overseas now need to score higher points in their SkillSelect EOI to be invited. As pass mark has been increased to 65 and pro rata occupations have to go through cutthroat competition, international students graduating from Sydney, Melbourne moving interstate seeking state nomination for 190 permanent visa.
NepaliPage,connects Australian Nepalese Community & Australian Nepalese Business Globally
Disclaimer: NepaliPage.com (नेपालीपेज डटकम) is a Nepalese Community website aggregating Nepalese Australian affairs including Australian Nepali Community News, Migration opportunities in Australia, Nepali International Students, Nepali home and garden, Nepali mortgage and real estate tips, tricks, and services, Travel, Entertainment, Nepalese Events, blogs, interview and many more. None of our stories is tailored expert advice for your circumstance, and cannot be taken as legal, migration, or any other expert advice. By nature, all of our contents provide general information on related topics from the various verified sources. We do not offer direct employment opportunities, Australian VISA help, and Migration assistance.