Today, many Nepalese students leave the country to study abroad. Nepalese students are studying in many different countries including United States, Australia, and the United Kingdom. Study in Japan remains among the top five study abroad option for Nepalese students. While choose study in Japan as a option from Nepal, one should make mind on what they going to study and what would be the outcome of their investment for Japanese education.
For many students Japan probably the best country to study technology, science, and finance. Choosing such subjects to study in Japan helps Nepali students to get various technical expertise. Besides technology there are various sector Nepalese student can obtain university degree as well as vocational skills.
Learning technologies in Japan is about learning time, morals, values, and respect. Furthermore, the country is regarded as one of the safest in the world. Because of this, students and residents feel confident about living and studying there.
In addition to investing heavily in technology, science, and pharmaceutical research, the Japanese government provides education to all people of Japan, regardless of race, class, or gender.
Families from middle-class backgrounds can afford to send their children to countries with lower living costs. A good example is Japan.
Education in Japan is highly regarded, and the country's business schools, engineering schools, and art schools are well known. The following information will give you a detailed overview of studying Japan and why it is a great place. So, without wasting another second, let's get right into it.
Read Also: What to study in Australia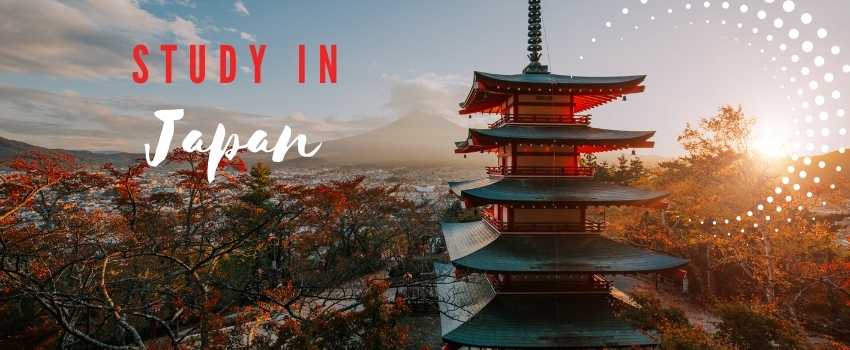 What makes study in Japan such an attractive option?
We could give you a hundred reasons to study in Japan, but let's not get too deep into it. Instead, we'll summarize a few.
Asian culture is somewhat similar:
Studying in Japan will allow you to experience Japan's culture for yourself since Nepalese will see it as a completely different place. It has a mixture of east and west, technology and tradition. Even the pop culture there is quite impressive and firmly rooted in East Asian culture. Many students use manga and anime to learn about Japanese culture.
Education and Business:
The Japanese education system is among the best in the world.
Technical professionals are trained in the country's education system. Japan outperforms America in technology. Computer engineers and IT students would be impressed by the results.
Sony, Nikon, Canon, Hitachi, Toyota, and others are some of the best tech giants in Japan. Additionally, the country has a good blend of technology and tradition. Also, the cost of education isn't too high in Japan.
Nepali students don't have to worry about college tuition costs since the country has reasonable prices.
Read Also: Nepalese planning to migrate to Germany, be aware of the cost of living in Germany
Employment position:
Part-time employment is possible in Japan for students. You can work certain hours per week, and there is money to sustain you. Your part-time income will assist you in surviving in this country since it will help you earn a living here.
Safety, a high priority: 
Safety is a top priority in Japan. Most people are polite, and the crime rate is low.
There is no time for gossip among the Japanese because they lead such a busy life. The city offers an excellent food scene and decent social life. In addition, racism is very rare, so there is little discrimination.
What is the application process for Japanese universities?
Japanese universities usually accept students twice a year. Spring (Nov-Apr) or Fall (March-Sept) options are two-semester options. It is necessary to start the application process in November if you wish to begin in the spring semester.
Fall semester applicants begin their applications in March. Applicants to a
Japanese universities must submit the following documents are required:
Applications for admission to the college
Include a personal statement
A transcript of your high school/university education (for undergraduates)
A certificate of graduation (for postgraduates)
SAT, TOEFL, GRE, etc. Test results showing passing the standardized tests
A photocopy of your passport and your recommendation letter
Tuition Fee in Japan
Japan is known for charging the same tuition fee for national and international students.
The first year of school in Japan usually carries an Admission fee. During the first semester, it is about 50000 Yen. About 750000 Yen (approximately USD 7000) will be required for the first year.
A student at a public university may have to pay a bit more, up to USD 8000. A student at a private university might pay around USD 15,000.
Nevertheless, schools can have different prices. The average price of a vocational school like Senmon Gakko (on the top end) is about USD 11700.
The cost of degrees relating to technical fields such as medicine, health, engineering and art is higher, while those relating to the humanities and business are cheaper.
What is the maximum number of hours a student can work in Japan?
Student workers are only allowed to work 28 hours per week. So, they're allowed to work 112 hours per month. During long-term breaks or vacations at your university, you might be able to work 8 hours a day.
Japan's living expenses
The Living Costs are another investment in addition to the school Fees. These expenses include food, transportation, and accommodation. Costs are affected by where you live. The cost of living in a small town is less than living in a big city like Tokyo. Since the cost of living is primarily determined by housing, you can save a lot of money by finding a decent apartment at a reasonable price. Japan isn't as expensive as many people believe. There is a good supply of power and transportation services, and the food is very cheap here.
Visa success rate for Japan
As a result of stricter screening, the percentage of visa applications approved this April at Japanese language schools from Myanmar and Bangladesh was much lower than last April 2019.
As a result of Japan's efforts to crack down on foreigners working while posing as students, the percentage of visas granted has plunged.
In a survey conducted by the Japanese Language School Association in Tokyo, it was found that only 15% of Myanmar applicants received student visas, down from 76 percent last year, and only 21% of Bangladeshi applicants got student visas, down from 61%. Meanwhile, 29% of Nepalese students got visas for education compared to 17% the previous year.
Conclusion
Nepali students find Japan a desirable destination due to two main factors: Quality Education and Reasonable Cost of Living. Japan is different from countries such as the United States and Australia, where you need a large amount of money in your bank account to go to a decent school. Prices of those schools are also not as high as they are in other countries.
Scholarships and grants are also available if you want to reduce the cost of your education. Part-time employment can also help you reduce the burden of financial responsibilities.
NepaliPage,connects Australian Nepalese Community & Australian Nepalese Business Globally
Disclaimer: NepaliPage.com (नेपालीपेज डटकम) is a Nepalese Community website aggregating Nepalese Australian affairs including Australian Nepali Community News, Migration opportunities in Australia, Nepali International Students, Nepali home and garden, Nepali mortgage and real estate tips, tricks, and services, Travel, Entertainment, Nepalese Events, blogs, interview and many more. None of our stories is tailored expert advice for your circumstance, and cannot be taken as legal, migration, or any other expert advice. By nature, all of our contents provide general information on related topics from the various verified sources. We do not offer direct employment opportunities, Australian VISA help, and Migration assistance.