Anyone driving in Australia under Nepali driving license condition should make sure their licence and terms are valid.
Many Nepalese students in Australia drive a car to make a commute between work and home. Nepalese students in Australia, as well as other temporary visa holders, can drive a car and other vehicles in Australia under their Nepali driving license conditions. All states and the federal government in Australia allows international students and temporary visa holders to drive under their overseas driving license conditions following the local transport regulations. This facility becomes helpful to many Nepalese international students and travelers, but some trying to exploit the system with doggy activities, making fake Nepalese driving license to drive in Australia. Assuming that the Australian government and police have no access to get verification of Nepali driving license, many drives in Australia holding counterfeit Nepalese driving license. But, now not only Australian police, everyone has the access to check whether the Nepali driving license you present is valid or counterfeit, but Nepalese Transport Management has also gone online and you can check the validity of Nepalese driving license within a second.
Now the Nepal Government, Department of Transport Management has opened its driving license database to the public for license verification. One can check their own or employee's license conditions and validity. It means one can check if their license is valid or not using the details printed on the license. After entering the driving license number and date of birth will produce search result that will display Nepali license holder's details including home address, when they obtained a license and what kind of vehicles they can drive or ride. If the all details of your license match with Department of Transport Management database your Nepali license is valid and original if not found your Nepali license is forged.
Now one can check and ensure their Nepali driving license is valid, not expired and accurately recorded in the Nepalese Governments' driving license Database. To check that you have to go through this link Click Here.  Then you will see the following page on your screen.
Read Also: Noteworthy suggestion for students driving in Australia with Nepali license

Once you see this screen on your computer click on the 'Online Driving License Registration' link on the Page. Once you click on that link you would see the following screen with 'Online Registration' and 'Check Status'. Click on the 'Check Status' button.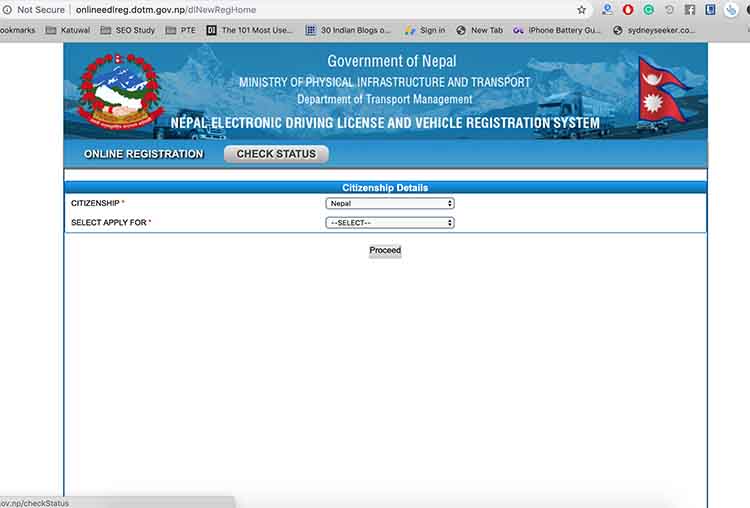 Once you click on that button you will get another page on your screen with the option 'Check Applicant Status' where the website asks to input reference number or license number. Click on license number option and fill your license number and date of birth mentioned on your license.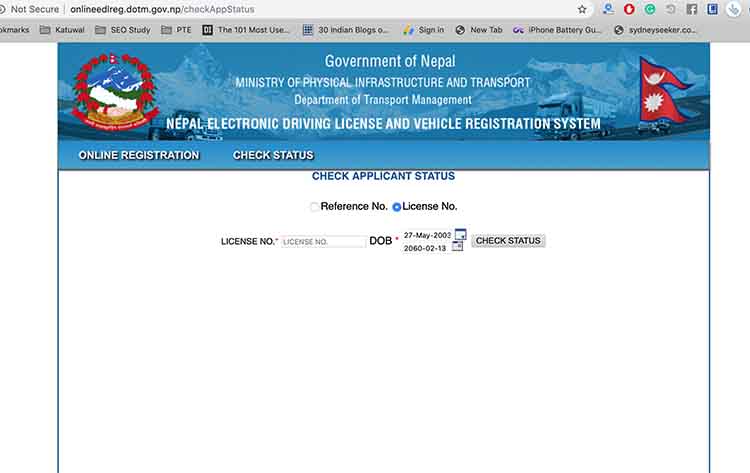 Once you fill your information and click on Check Status you will get your name and license details on next page.
Read Also: Watch, if you drive with Nepalese driving license

And finally, when you click on the 'select' option on your license page the Department of Transport Management website will show your full license details with photo and other personal identification information and your license records with driving permission vehicle type, like motorbike or car or both.
Read Also: Driving in Australia with Nepali license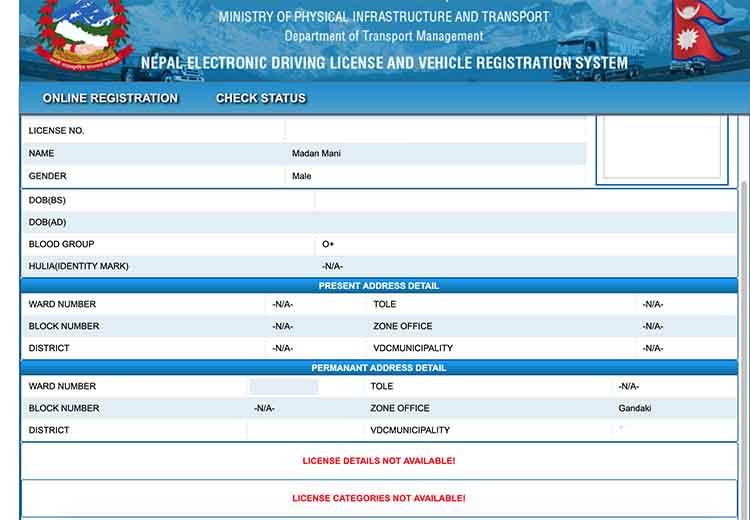 NepaliPage,connects Australian Nepalese Community & Australian Nepalese Business Globally
Disclaimer: NepaliPage.com (नेपालीपेज डटकम) is a Nepalese Community website aggregating Nepalese Australian affairs including Australian Nepali Community News, Migration opportunities in Australia, Nepali International Students, Nepali home and garden, Nepali mortgage and real estate tips, tricks, and services, Travel, Entertainment, Nepalese Events, blogs, interview and many more. None of our stories is tailored expert advice for your circumstance, and cannot be taken as legal, migration, or any other expert advice. By nature, all of our contents provide general information on related topics from the various verified sources. We do not offer direct employment opportunities, Australian VISA help, and Migration assistance.