The Australian government was emphasizing since the last couple of years on it, and finally released a new definition of regional Australia for migration purposes. To push migrants into the regional Australian hubs, the Australian government has changed its migration intake and system earlier this year. Being focused on sustainable development and population planning Australian government has introduced regional migration visas and incentives to new migrants to make the regional move win-win. The change encourages skilled migrants who want to remain in Australia permanently to live and work in Australian regional cities and towns.
In March this year, the Australia Government announced a reduction of its permanent migration cap from 190,000 to 160,000 places. And, set some 23,000 for regional migration visa places. Later in October, the government increased the number for regional visas by another 2000, stating ''Following unprecedented growth (124 percent) in the number of regional visas granted in the first quarter of this program year, the Government is increasing the total number of regional places to 25,000.'' Regional Australia focused changes in the Australian migration system come into effect on 16 November. To kick on the migration move government has changed the existing definition of regional Australia for migration purposes.
In the post 16 November scenario, Perth and the Gold Coast will no longer be known as major cities. Those cities are expecting being regional would help them to attract skilled migrants and international students.
The new regional definition keeps Australian cities into three different tires, major cities, cities and major regional centers, and regional centers and other regional areas. As per the new migration setting, major cities students and skilled migrants living and working in Melbourne, Sydney, and Brisbane would not get access to regional visas. Where people living in the regions except these cities would get access to 25,000 regional migration visas with priority processing, and international students living and studying in regional areas would get a bonus post-study work visa for another year.
The Australian government says this change is a crucial pillar for the population plan to ease significant pressure on city infrastructures. "These changes will boost the appeal for so many cities and regional centers that are looking to grow their population to support local services like schools and health care, while attracting new workers and students, meaning more jobs and more investment." Announcing the government's new definition of regional Australia for migration, Australian Prime Minister Scott Morrison said.
Read Also: These are new visas for regional migration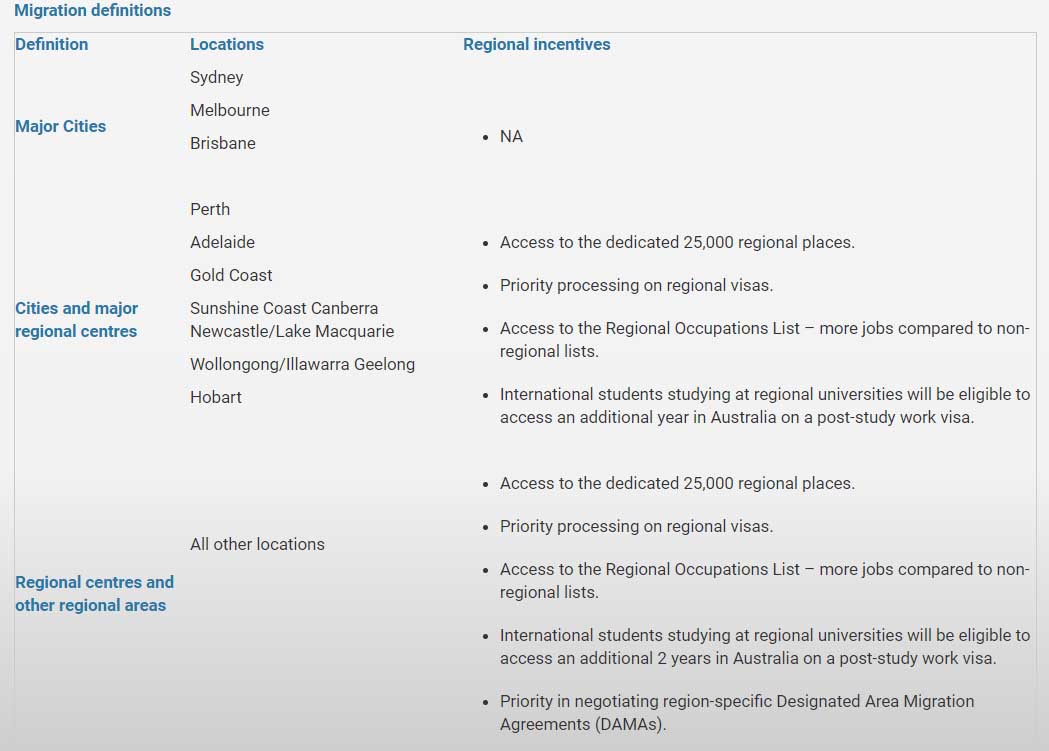 Statistics showed the majority of migrants have settled into major Australian cities in past years contributing pressures on city infrastructures such as parks, trains, buses, and housing. "Almost 70 percent of our population growth in recent years has been into Sydney, Melbourne, and Brisbane, increasing the pressures being felt across our major cities," Minister for Population, Cities and Urban Infrastructure Alan Tudge said.
Immigration, Citizenship, Migrant Services, and Multicultural Affairs Minister David Coleman focused on continuing support for State and Territory Governments and regional communities to achieve need of Australian cities and regions. Further added, "We will continue to review our regional migration settings to ensure they continue to support regional Australia."
The government has also made arrangements of Regional Outreach Officers to support regional employers to make a proper understanding of skilled migration as well as streamline the visa processes.
This new definition would be into effect on 16 November 2019.
NepaliPage,connects Australian Nepalese Community & Australian Nepalese Business Globally
Disclaimer: NepaliPage.com (नेपालीपेज डटकम) is a Nepalese Community website aggregating Nepalese Australian affairs including Australian Nepali Community News, Migration opportunities in Australia, Nepali International Students, Nepali home and garden, Nepali mortgage and real estate tips, tricks, and services, Travel, Entertainment, Nepalese Events, blogs, interview and many more. None of our stories is tailored expert advice for your circumstance, and cannot be taken as legal, migration, or any other expert advice. By nature, all of our contents provide general information on related topics from the various verified sources. We do not offer direct employment opportunities, Australian VISA help, and Migration assistance.