Many overseas living Nepalese acquire foreign citizenship and passport as well but, they forget to comply with their motherland's citizenship law & regulation by renunciation of Nepalese Citizenship.
The concept of dual citizenship is when an individual is allowed to be a citizen of two or more countries. Those who possess a passport are obligated to obey the law and have rights in the country they belong to.
Dual citizenship is prohibited in many countries. These countries are not limited to one continent or region. Still, they can be found worldwide, such as Andorra, Azerbaijan, Bahamas, Bahrain, Belarus, Botswana, Bhutan, Oman, Malaysia, and China. Nevertheless, there may be some exceptions. For example, in Azerbaijan, the president may offer dual citizenship to people deemed particularly important by the office.
If one acquires citizenship from another country, one automatically loses citizenship in Congo, Djibouti, Cuba, Ethiopia, Haiti, India, Indonesia, Iran, Japan, Kuwait, Kazakhstan, Monaco, Singapore, Oman, Qatar, Saudi Arabia, Nepal, Mozambique,` and Zimbabwe. An individual seeking dual citizenship in a particular country must request information from the Embassy.
People in countries that do not allow dual citizenship must relinquish their nationalities to obtain the nationalities of another country. Once a State updates the law to permit dual citizenship, people who have lost their nationality after acquiring another country's citizenship can apply for their first nationality.
Read Also: What is the number of Nepalese in the United States?
Nepalese Citizenship Relinquishment by the NRNs 
Suppose an individual wish to surrender their Nepali citizenship. In that case, they should submit a notice in the form outlined in Schedule 5 to the Chief District Officer, or, if they reside abroad, to the appropriate Royal Nepali Ambassador, or if the Royal Nepali ambassador is absent or resides far away, to the Royal Nepali Consul-General, or the Secretary of the Ministry of Home of the HMG.
The officer who receives the notice in Sub-Rule (1) shall record such information in the Register Book maintained in the form specified in Schedule 6, and the person's Nepalese citizenship will lapse on the date of such registration.
The Ministry of Foreign Affairs must submit full particulars to the Ministry of Home within seven days after posting notices, while Chief District Officers must submit full details directly to the Ministry of Home.
Any Nepalese citizens who wish to surrender their Nepalese citizenship must apply for the Relinquishment of Nepali Citizenship with the required supporting documents as stated below:
Procedure for relinquishing the Nepalese citizenships from the USA 
Completed application form (Download Form HERE)
Original Nepali citizenship card.

One recent photograph.

Obtain a copy of the passport of the USA.

A copy of the United States document of naturalization.

Cashier's check or $50 money order only. You will not be able to process your application unless you enclose a check or money order payable to the "Embassy of Nepal", Washington, D.C.". SAMPLE.

A self-addressed, prepaid return envelope with tracking information is required. No tracking information is needed for self-pickup.
Procedure for renunciation of Nepalese citizenship from Australia 
The citizenship renunciation form can be downloaded (download citizenship renunciation form) and submitted with a passport and original citizenship certificate. If requested, the Embassy can provide recommendations/proof of renunciation. Here is a fee of AUD 60. 
Within one year, the service fees must be used. The service gets repaid if the service is not rendered within a year for any reason.
What is the reason for Nepal not allowing dual citizenship?
The law of Nepal prohibits dual citizenship.
The Nepal nationality law is based on the One Nation, One Citizen principle.
Due to the complexity of dual citizenship, it has both advantages and disadvantages. Dual citizenship allows a person to hold citizenship in two countries simultaneously.
Having two passports is often cited as a benefit of dual citizenship. On the other hand, double taxation can be a disadvantage.
Read Also: Dual Citizenship in Nepal: Is It Possible?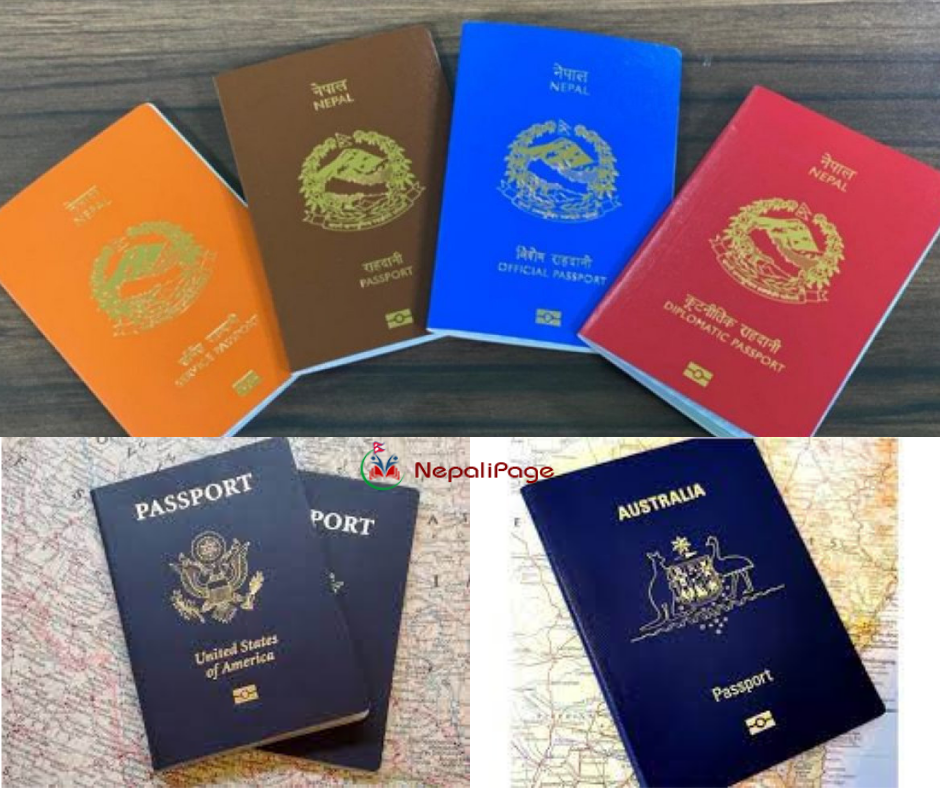 Dual citizenship problem in Nepal 
Owning property in Nepal is not possible if you have dual nationality. Dual nationality is not allowed in Nepal at present. Alternatively, you can renounce the foreign nationality and keep the Nepalese nationality. Alternatively, you can hold your foreign nationality and renounce Nepalese citizenship. You will violate Nepali law if you disclose both citizenships to the Immigration sector.
Are you allowed to work in Nepal after the renunciation of Nepalese citizenship?
After surrendering the Nepalese citizenship to the concerned authorities, citizens of Nepali origin cannot work for the government but can be hired by private firms and non-governmental organizations. Nepalese nationals have to follow the same rules as any foreign national to pursue a profession. 
When Nepalese citizenship is renounced, can one acquire property in Nepal?
Foreigners of Nepali origin (NRN cardholders) are limited in purchasing property in Nepal. NRN and their family members are authorized to purchase and own land and other fixed assets as indicated below Clause No. 11 of NRN Bylaws 2066:
Only two Ropanis allowed in Kathmandu Valley

8 Kathhas max in Terai metropolitan areas

Four Ropanis maximum in metropolitan areas of other districts except for Clauses A and B

.

There is a maximum of 1 Bigha in Terai areas other than Clause B

.

10 Ropanis maximum in the remaining areas except for Clauses A, B, C, and D.
Property purchases over the above limitations are illegal!
Nepal strongly disagrees with the dual citizenship concept. However, developed nations such as Canada, the U.K., New Zealand, and Norway have no issues with the migrants holding dual citizenship. But with dual citizenship, there does come the situation of double taxation.
Can the application to revive Nepali citizenship must be submitted in Nepal?
Suppose any person who has gone abroad after renouncing their Nepali citizenship wishes to reclaim their citizenship by relinquishing their foreign citizenship under Section 6B of the act. In that case, they should submit an application to the Chief District Officer in the form specified in Schedule 3.
A person applying for such citizenship must also prove that he is a Nepali citizen and that he subsequently relinquished citizenship of the foreign country.
Upon receiving the application mentioned in Sub-Rule (1), the Chief District Officer shall conduct or arrange for the conducting of necessary inquiries. If he finds that the particulars are correct, forward the application with a recommendation to the Ministry of Home of HMG.
As soon as the Ministry of Home of HMG receives the application referred to in Sub-Rule (2), it will issue a certificate of Nepali citizenship in the form outlined in Schedule 4.
According to Section 8A of the act, any Nepalese woman who wishes to revive her Nepalese citizenship must send a notice of her return to Nepal and settlement in this country in the form specified in Schedule 7.
As soon as the Chief District Officer receives the notice mentioned in Sub-rule (4), they should register it and notify the woman accordingly according to Schedule 8.
If you have any queries related to dual citizenship, do send us your questions in our comment section below.
NepaliPage,connects Australian Nepalese Community & Australian Nepalese Business Globally
Disclaimer: NepaliPage.com (नेपालीपेज डटकम) is a Nepalese Community website aggregating Nepalese Australian affairs including Australian Nepali Community News, Migration opportunities in Australia, Nepali International Students, Nepali home and garden, Nepali mortgage and real estate tips, tricks, and services, Travel, Entertainment, Nepalese Events, blogs, interview and many more. None of our stories is tailored expert advice for your circumstance, and cannot be taken as legal, migration, or any other expert advice. By nature, all of our contents provide general information on related topics from the various verified sources. We do not offer direct employment opportunities, Australian VISA help, and Migration assistance.