Surpassing invitation numbers by the Department of Home Affairs data gives new hope for migration seekers in Australia. Though released as a late post the department invitation round outcome for November 2018 shows 70 pointers a big winner. 2,200 invitations were awarded to 70 points claimers on Skill select. Total invitation round generated total 4340 outcomes for skilled independent visa subclass 189. Those standing with 75 points in Skill Select EOI were awarded 1,199 invitation based on the time claimed and occupations. The invitation round produced invitations to apply for permanent residency visa 764 places for 80 point holders, 170 for 85, about 5 each for 90, 95 and 100 points claimers on Skill Select. Department data shows 4350 invitations were sent on November 11, 2018, to apply for 189 and 489 visas.
The invitation number raise benefited information Technology and Engineering occupations. As per the November release, the minimum points score came down to 70 for these occupations. In IT group one need to have 75 points to get invitations if the occupation is ICT Business and System Analysts. Electronics Engineer and Other Engineering Professionals need 75 points to get an invitation to apply skilled independent visa subclass 189. Accountants, Auditors, Company Secretaries, and Corporate Treasurers occupations remain on the same 80 points to get an invitation for skilled migration through visa subclass 189.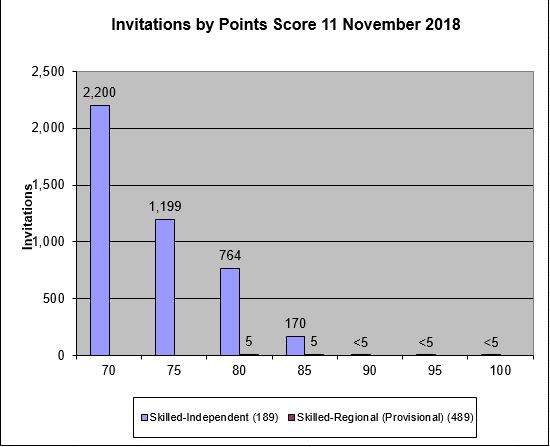 Migration agents and EOI applicants on skill select are supposing December and January round has produced invitations in between 600 to 800 each time. The Skill Select invitation rounds on July 2018 produced 1010; August and September produced 2500 invitations each month for Skilled Independent visa subclass 189. October and November both month resulted from 4350 invitations each. The department runs invitation round 11th of each month based on point score claimed on Skill Select.
The department has categorized occupations on pro-rata and non-pro rata. Former has the cutthroat competition than the second. Popular occupations IT, Accounting and Engineering are pro-rata occupations. Another popular occupation among Nepalese is nursing, which is non-pro rata occupation. At this time to get an invitation to apply skilled independent visa subclass, 189 Nursing graduates should have to score 70 points at least on Skill Select EOI. The department data shows 14,710 skilled visa invitations has already sent to the EOI applicants until November.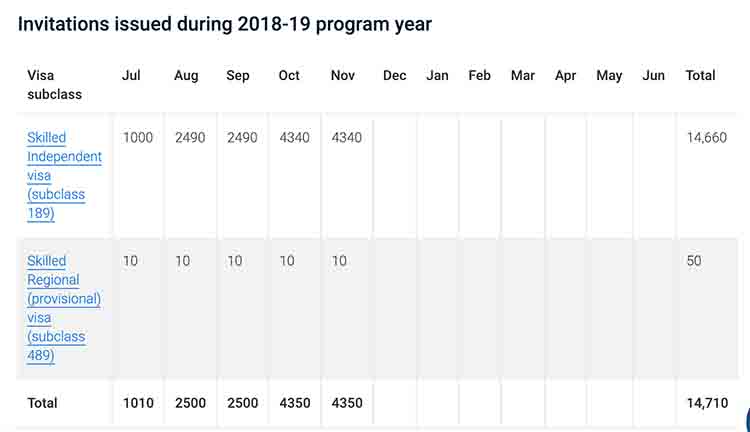 Points for Australia skilled migration on Skill Select calculated from various aspects such as age, education, English competency, NAATI CCL skill, experience in nominated occupation and others. Since 2017, competition for skilled visa invitations has increased in a rocketing way. Pass marks, as well as English band score requirement, has increased, NAATI CCL and experience in the nominated occupation became important to make invitations happen for.