Do you want to study Australia? Looking for Study Australia scholarships to finance your living and study expenses in Australia? And your dream is to be a leader in your field in Nepal? If your answer is yes for these questions, a good opportunity is waiting for you. And, the Australian Embassy in Nepal is going to help you with this opportunity to get a scholarship to study in Australia.
Yes, this is about 'Australia Awards 2020' Australian government's fully funded scholarship, which covers airfare to living and tuition fees as well as health insurance and returning ticket after completing your project study Australia. 
The application for the scholarship is scheduled to open on 1st February 2019. Before that Australian Embassy in Nepal is organizing nationwide seminars to help Nepalese students to plan, prepare and meet the scholarship requirements. The embassy has prepared 'Information Seminars' in Birgunj, Biratnagar, Pokhara, Chitwan, Butwal, Nepalgunj, Dhangadhi, Janakpur, and Kathmandu. Seminars would be starting on 17 January 2019 from Birgunj.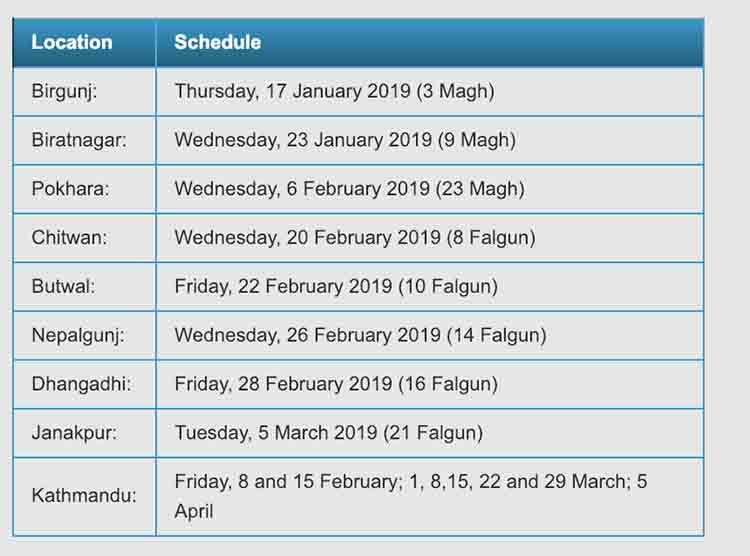 The scholarship will fund student's all expenses of study in Australia at master's level. But the study could be coursework or by research or a combination of both but the duration would be two years. If you have completed four years bachelor's degree or masters degree and have at least three years of professional experience the scholarship would suit for you. Applicants need to have at least each band 6 scores in IELTS or equivalent band score in similar language tests with overall 6.5. You can correspond to the Australia Awards via email: email to [email protected].
Read More Australia Awards related stories to know more about the scholarship
About 2018 Australia Awards
About 2019 Australia Awards
NepaliPage,connects Australian Nepalese Community & Australian Nepalese Business Globally
Disclaimer: NepaliPage.com (नेपालीपेज डटकम) is a Nepalese Community website aggregating Nepalese Australian affairs including Australian Nepali Community News, Migration opportunities in Australia, Nepali International Students, Nepali home and garden, Nepali mortgage and real estate tips, tricks, and services, Travel, Entertainment, Nepalese Events, blogs, interview and many more. None of our stories is tailored expert advice for your circumstance, and cannot be taken as legal, migration, or any other expert advice. By nature, all of our contents provide general information on related topics from the various verified sources. We do not offer direct employment opportunities, Australian VISA help, and Migration assistance.