Two sides of Australian permanent residency visa process, one side thousands of international students and aspirant migrants struggling to score migration points to get an invitation and in another side of the story there is no EOI and invitations for almost 10 thousand permanent residency places.
Australia is one of the most sought countries for migration, millions of people through the world trying their luck to acquire Australian permanent residency. There are various paths to becoming an Australian permanent resident but the notable one is skilled migration. To be eligible thousands of international students in Australia frame their study to fulfill the Australian permanent residency visa requirements during their stay in Australia. Framing the study and developing skill as well experience on the occupations that are on skilled occupation list is the most effective and popular in this regard.
Each year Australia plans to invite 190,000 permanent residents and majority of the positions are reserved for skilled migration. To be invited and granted Australian permanent residency visa one need to nominate one skilled occupation from Australian Medium and Long-term Strategic Skills List (MLTSSL) or regional/state skilled list, based on what subclass they apply for Australian permanent residency visa. Skilled Independent visa (subclass 189) is the major visa subclass for this, which does not require any state or employer nomination and allows to stay indefinite time in Australia with the possibility to become an Australian citizen. Australia government has allocated around 44,000 permanent residency places for this visa subclass for the year 2018-19.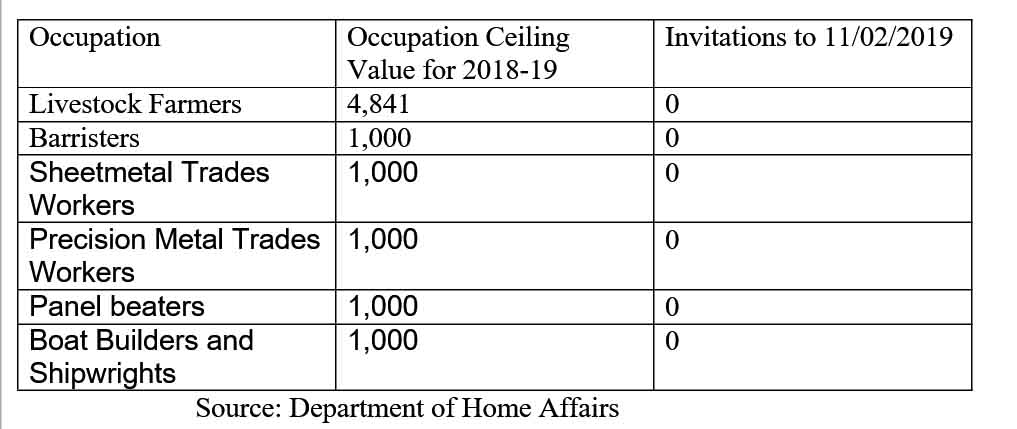 Major popular occupants and graduates of those subjects such as Information Technology, Engineering, and Accounting have to face cutthroat competition for the invitation to apply for a permanent residency visa. The Australian government has implemented pro-rata arrangement for those occupations and often higher migration point scorer will get an invitation to apply for Australian permanent residency visa subclass 189. In this, Australian graduated international students in subjects of Information Technology, Engineering and Accounting need to score each band 8 in PTE or IELTS English test with NAATI CCL and relevant occupation work experience to become a high point scorer in migration calculator.
Read Also: Career as a Boat Builders and Shipwrights in Australia


On one hand students and occupants struggling to score higher points to get invited but on another side there are couples of occupations in which not a single invitation issued in the last 8 months. According to Occupation Ceiling value for the migration program year 2018-19 there are 9841 accumulated places for a permanent residency visa for the occupations Livestock Farmers, Barristers, Sheetmetal Trades Workers, Precision Metal Trades Workers, Panel beaters and Boat Builders and Shipwrights. But no invitations issued for these occupations during 8 months of the program year, according to the invitations report by the Department of Home Affairs.
Recently, the Australian government has announced new changes in migration program slashing 30,000 permanent residency visa places with another about 55 percent slash in 189 visa subclass. Also, as anticipated announced another two different visas to attract migrants to settle the regional side of the nation.