Millions of migrants, international students and career seekers in developed countries have already taken the PTE Academic Test. Many have good experiences and similarly bad experiences too. Based on those all experiences and research on the system Pearson has announced the PTE Academic Test change which would come into effect from November 16, 2021. Many international students planning to apply for overseas universities and skilled workers planning to apply for skilled migration are confused with the changes. Here is an ultimate guide on PTE Academic Test change which will help you clear about new changes in the PTE Academic test.
Yes! There are changes coming into effect on the PTE Academic test.
The questions aren't getting harder, and they aren't changing. You must stay and find out what is going on.
PTE Academic will be affected by four significant changes going forward on the 16th of November this year. Let's begin by looking at what's not changing before we discuss what is.
Read Also: 6 means to get 65+ in PTE Academic
What remains the same in the PTE?
Neither will the test become more difficult
Questions will remain the same
No changes are made to your score requirements.
Keeping this last point in mind is essential. The available information from universities and government bodies does not indicate changes in the scores needed to apply to universities or migrate to them.
There are no changes in anything; this means you still need a 65. The 79 is still required if you need one. The most important thing to remember is that nothing will change. So let's be clear again:
There will be no change in difficulty.
There will be no changes to the tasks.
There will be no change to your score requirements.
How the PTE Academic Test is changing?
On November 16th, there will be a change:
1. Exams will last 2 hours instead of 4
2. A reduction in questions will occur
3. There will be no optional break
4. You will see a new Score Report
Shortening the test is planned
Keeping this in mind is the significant change you should be aware of, and it isn't harmful to you. The length of the test will reduce from approximately 3 hours to about 2 hours. Once again…
With the changes, the overall test length will go from about 3 hours to about 2 hours after November 16th. The general test is significantly shortened.
Read Also: Planning for PTE Academic? Here are practice materials
Thus, before November 16th, if you are taking the PTE exam, you'll take the 3-hour exam, and after November 16th, if you're taking the PTE exam, you'll take the 2-hour exam.
Many of you who have taken the test before will know that you can finish it in less time, probably in less than 2.5 hours on average, so if the new test is only 2 hours, it should be possible.
Personal introductions are left unchanged. For speaking and writing, the time reduction will be 54 minutes instead of 67 minutes. Likewise, the reading section will be shortened to 29-30 minutes from 29-30 minutes.
Listening time will be reduced from 30-43 minutes to 30-43 minutes without the optional break.
So, from November 16th onwards, the PTE Academic time will be decreased by one hour. It's a win for test-takers since the test isn't becoming harder, but the question types aren't changing. Despite the recent changes in language testing, the test still assesses your language skills accurately, fairly, and validly as before.
Hence, the number of questions needed to be reduced to decrease overall time. Here is change 2.
A fewer number of questions will appear on the test.
Here is a breakdown of the number of questions in each section of the test. Let's start with…
PTE Speaking
There is no change to what you do in your 1-minute personal introduction. It is speaking that results in the most question reductions. Reading Skills and Repeat Sentences are not changing, and the number of Describe Images, Retell lectures and Answer Short Questions are also not changing. What's changing are the number of Describe Images and Retell lectures.
Awesome. That makes the process go quicker… not necessarily more accessible nor more complex. Let's look at…
PTE Writing
You will do one or two summaries instead of two or three, and one or two essays instead of three.
In total, there will be 28-36 questions for the speaking and writing sections, down from 39-48 questions.
Therefore, writing hasn't changed, but speaking has. Let's take a look at…
PTE Reading
No changes are made to the fill-in-the-blank procedures. There will be only two questions with multiple choices instead of 3-4. There will be the same questions about reorganizing paragraphs and filling in the blanks. In a multiple-choice, single answer section, you will answer one or two fewer questions. A total of 13-18 reading questions are included in the 2-hour test.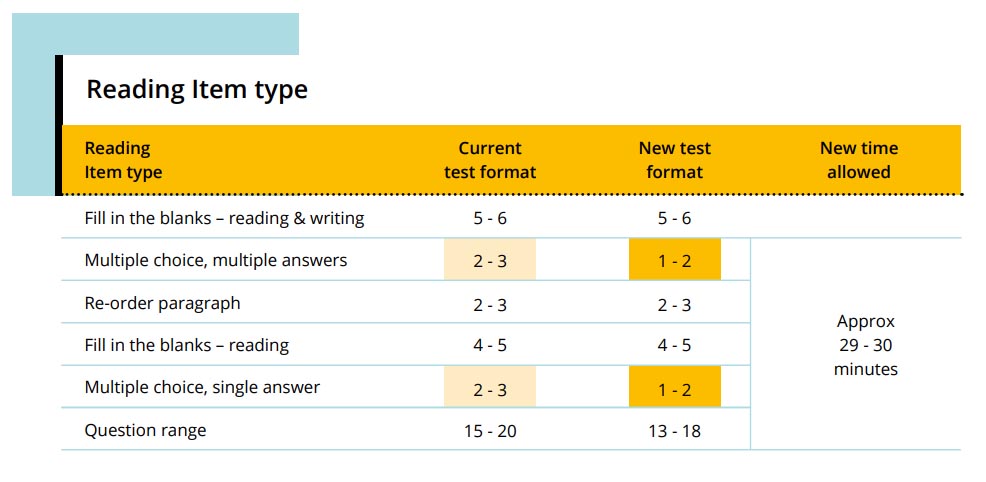 Would you please allow us to emphasize that?
There is NO change in the level of difficulty
The assignments (tasks) are NOT changing
The requirements for the score are not changing
Additionally, we want you to be aware that these changes will take effect on… November 16, 2021
You might want to take the shorter version of the test if you plan on taking the PTE in November. It's okay to change the date of a test booked before November 16 if you've already booked one. It's up to you.
Let's examine the final question…
PTE Listening
The answers to the Summarize Spoken Text, Multiple Choice Multiple Answers, Highlight Correct Summary, Multiple Choice Single Answer, and Select Missing Word reduces by one or two questions. Identifying incorrect words, filling in the blanks, and writing from dictation remain unchanged. There will be fewer questions, between 12 and 20 instead of 15 to 22.
The test will therefore be shorter and have fewer questions. Awesome! We need to discuss preparation before talking about two more minor changes. If you plan to take longer or shorter tests, be aware that the difficulty and questions types will not change.
Next, let's discuss some minor changes… A break no longer separates this section.
Therefore, you can take a 10-minute break before the listening portion starts in the 3-hour test. Beginning November 16, you will not be able to take this break.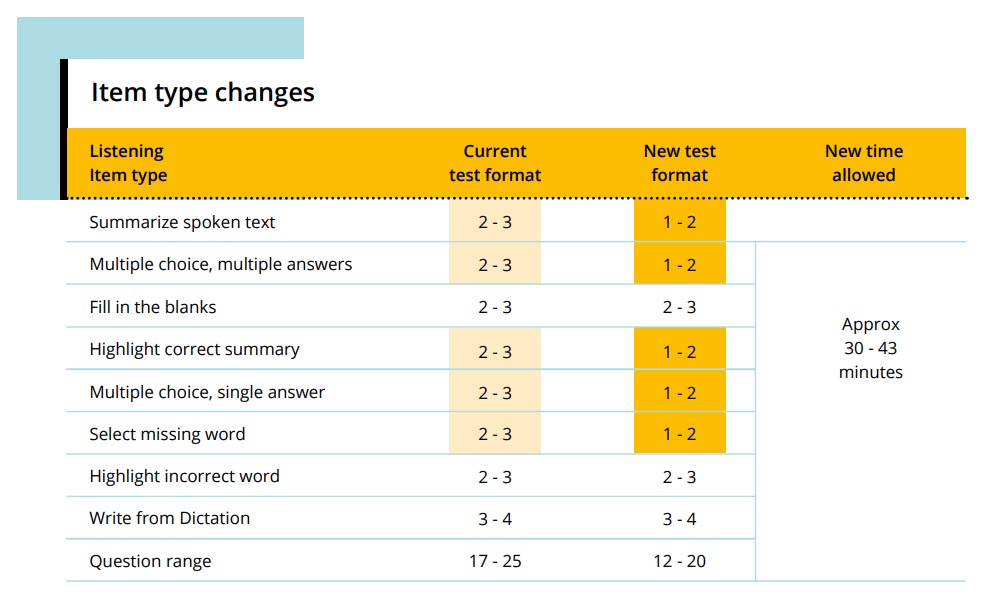 You will see a new Score Report in the future.
Pearson states that the score report you receive after the test will differ slightly in appearance after taking it. We do not have much information on this. Your overall score and your listening, reading, writing, and speaking scores will still be displayed. Still, your enabling skill scores for grammar and vocabulary will no longer be displayed. Instead, you will receive a report on how you can improve in these skill areas.
Overview of the changes for the PTE test
So let us show you the changes that are coming on November 16 and the changes that aren't coming.
The changes that will take place on November 16
Exams will last 2 hours instead of 4
Question numbers are reduced
There will be no optional break
You will see a new Score Report
The things that aren't changing in PTE
The test will remain the same difficulty
No changes are made to task types
You will not be required to increase your score
Frequently asked questions about PTE Academic Test change
Q. It will be harder to score 65plus or 79 plus after PTE Academic Test change? 
A: No, as per the information supplied by Pearson who runs the PTE Academic Tests there is no changes in difficulty level, tasks and scoring.
 Q. Do we get fewer questions on tests after the new PTE Academic Test change? 
A: Yes, some questions type would be reduced.
Q. Do any changes on the score report after the new PTE Academic Test change? 
A: Yes, Pearson is changing the score report with the test change. You will get a new score report than the current one.
Q. Is test time reducing after the new PTE Academic Test change? 
A: Yes, the new test would be approximately 2 hours.
Q. Does this new PTE Academic Test change would have any effect on Australian Permanent Residency, Australian Student Visa and other visa requirements? 
A: No, recognition remains the same.
Any confusion related to the PTE changes, do send us your queries in the comment section below!
NepaliPage,connects Australian Nepalese Community & Australian Nepalese Business Globally
Disclaimer: NepaliPage.com (नेपालीपेज डटकम) is a Nepalese Community website aggregating Nepalese Australian affairs including Australian Nepali Community News, Migration opportunities in Australia, Nepali International Students, Nepali home and garden, Nepali mortgage and real estate tips, tricks, and services, Travel, Entertainment, Nepalese Events, blogs, interview and many more. None of our stories is tailored expert advice for your circumstance, and cannot be taken as legal, migration, or any other expert advice. By nature, all of our contents provide general information on related topics from the various verified sources. We do not offer direct employment opportunities, Australian VISA help, and Migration assistance.