Nepalese Australian have given a new name to Australia 'the eighth state' that reflects their strong tie with their home country Nepal. With the rising Nepalese population, Australia does not feel overseas for Nepalese. No matter they are living in Australia or in Nepal.
Australia is very familiar to Nepali, many Nepali has migrated to this country to study, work and live. A significant number of Nepalese city households has links to Australia either one family member studying in Australia or permanently migrated in Australia. In recent years the number of Nepalese students in Australia has upsurged. That also contributed to the increase Nepalese Australian population of permanent residents and Australian citizens. Now Nepalese Australians became a significant component of Australian multicultural society. Not only in Sydney or NSW but also in other major Australian cities and regional hubs Nepalese population has significantly increased in recent years.
The majority of Nepalese Australians migrated into Australia as international students and attained permanent residency and citizenship later. Nepali international students could find studying in Australia a challenging experience at first, especially since English is not our first language. Later, it would be not much challenging, as Nepalis are quick learners. This article would give you a snapshot of Nepalese living in Australia.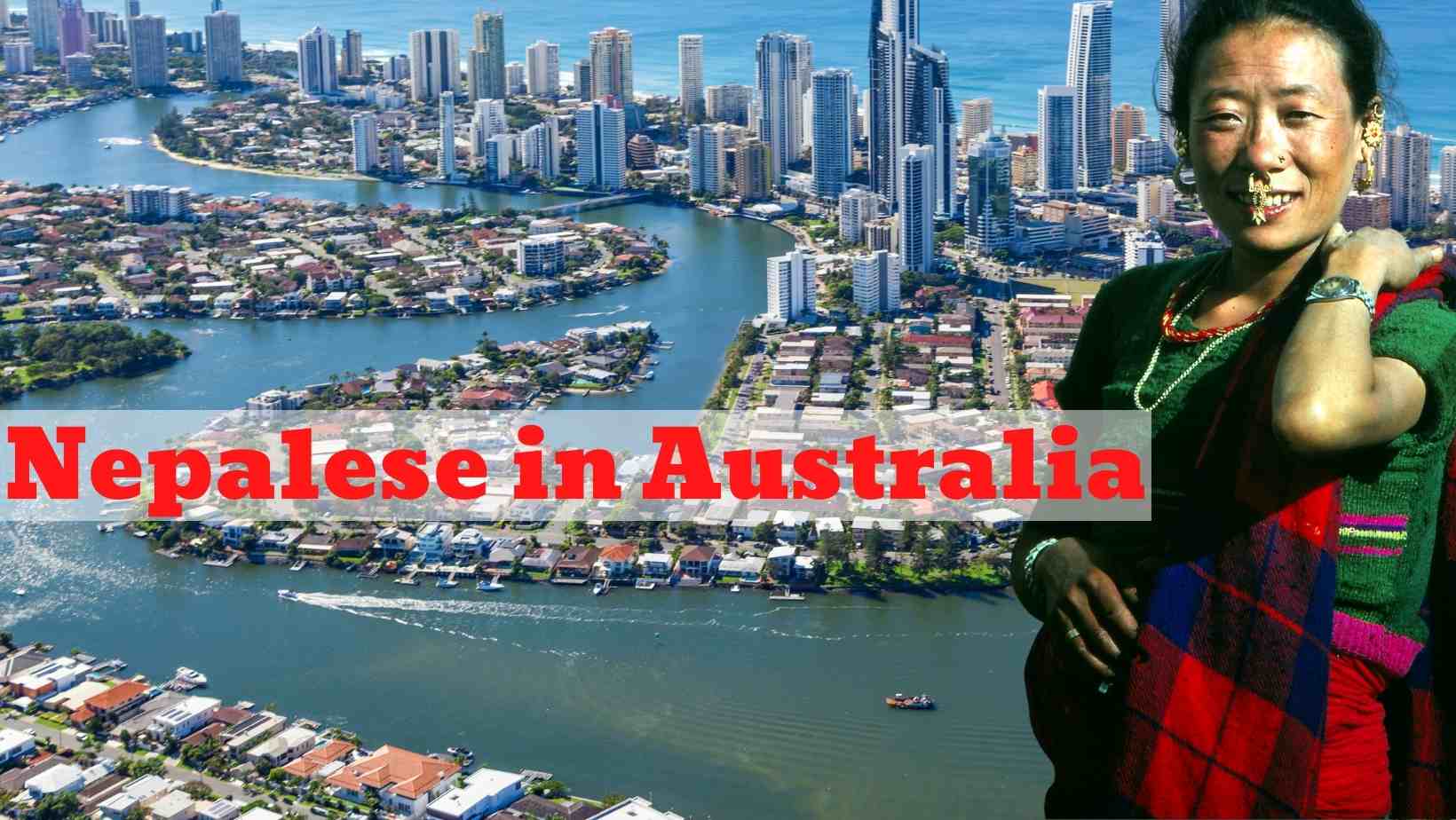 Read Also: Nepalese students enrollment increases by 200% in Australia
How many Nepalese Students are in Australia?
The number of Nepalese studying in Australia has a significant portion of the Nepalese Australian population. In July 2021 there are 54,022 Nepalese in Australia enrolled in different courses holding an Australian student visa. The number of Nepalese students in Australia in 2018 was just under 50,000, which was an increase of 52 per cent in 2017. In 2020 there were 69,000 Nepalese students in Australia.
Nepalese students are the third source of the Australian international education sector. Nepal is the third major source country for international students holds an 8% market share of total Australian international education export. Nepal has now overtaken Malaysia and Brazil, so there are heaps of Nepali students in Australia, in Sydney in each and every train ride you could find Nepali talking over the phone.
How did the Nepalese settle in Australia?
Most of the Nepalese who call Australia home migrated into Australia through skilled migration. But, there are very few Nepalese who got Australian permanent residency through asylum-seeking. There are three major categories, Skill Stream, Family Stream, and Special Eligibility Visas, through that Nepali students could get permanent residency in Australia.
Some of the skilled visas Nepalese choose is 189 skilled independent, 190 state nominated, 489 regional provisional, 491 regional skilled migration and some business subclass visas.
Number of Nepalese Australians in Australia 
The Nepalese Australian population is heavily increasing in Australia in recent years with the growing number of Nepalese international students in Australia. The estimated Nepalese resident population in Australia was 131,830 in 2020 as per the Australian Bureau of Statistics statistics.
The number of Nepal born Australian residents were 117,870 in June 2019 reached was more than four times the number in June 2009 (24,820). The Nepalese Australian community is Australia's eleventh largest migrant community.
Visas for skilled Nepalese workers
Nepalese wherever they study and working on certain skilled occupations can migrate into Australia through the Australian skilled migration stream. To get Australian permanent residency, work and live in Australia they need to gain some necessary skills, qualifications, and entrepreneurial experience that matches the Australian economy. There are seven components that determine whether any Nepalese could get Australian permanent residency or not.
Investing in business innovation and growth
Through talented individuals
Sponsored by employers
The Global Talent Initiative (Independent)
Regional Migration
Skills-Based Initiative
Nominated by States/Territories
What occupation do Nepalese Australians do?
Healthcare is one of the charming occupations for Nepalese living in Australia. Good and incremental payment and flexible work options are appealing factors for Nepalese living in Australia. Besides nursing and healthcare majority of Nepalese are involved in the hospitality sector. As an international student in Australia, many Nepalese has passed through the kitchen and other hospitality roles but gradually they join professional jobs once get permanent residency.
Basically, Nepalese Australian's migration journey begins with enrolling on a professional course but end up working in sectors that are distant from the professional reach. And, once they get settled in Australia they bounce back to their professional occupation. In recent years, many Nepalese has joined agent or middlemen roles such as Mortgage Broker, RealEstate Agent, Insurance Agent, Education Agent, Migration Agent etc.
Considering the migration situation based on the Skill stream and the grants of Temporary Resident (Skilled Employment) visas to Nepalese, the Home of Affairs of Australia created the following table based on the survey of 2019-2020.
Following is the occupation and number of Nepalese who got permanent residency in Australia through skilled migration pathway in 2019-2020.
2019–20
Cooks
107
Accountants
650
Chefs
33
Registered nurses
564
Registered nurses
19
Cooks
293
Bakers and pastrycooks
16
Chefs
102
Software and applications programmers
12
Software and applications programmers
96
Accountants
8
Enrolled and mothercraft nurses
67
Cafe and restaurant managers
7
Cafe and restaurant managers
55
General practitioners and resident medical officers
5
Civil engineering professional
43
ICT business and systems analysts
< 5
Database and systems administrators, and ICT security specialists
36
Financial brokers
< 5
Computer network professionals
28
Data Source: homeaffairs.gov.au 
Accounting is the most sought course and occupation in Australia. The majority of Nepalese students in Australia enrol on accounting courses. As this course leads toward professional accounting services and jobs there are many Nepalese across Australia working as Tax agents or accountants. From the aforementioned table, we can draw a picture that Nepalese Australians are involved in Accounting, Nursing, Hospitality and IT occupations.
Nepalese in Accounting in Australia
The accounting profession is one of Australia's fastest-growing occupations. There are many career options available to students who study accounting in Australia. The minimum qualification for becoming an accountant in Australia is a bachelor's degree. The MPA (Master's in Professional Accounting) program will also open excellent career prospects for you. Accounting students can work at positions like Corporate Treasurer, External Editor, Taxation Accountant, General Accountant, Management Accountant, and more.
Australian accountants make around AUD75,000 on average. Therefore if you see the above table in the figure, the number of migrants in Australia as accountants are 650. Similar to the accounting profession, another charismatic profession is nursing. Its highly efficient healthcare industry puts it among the world's top destinations. Generally viewed as the most favourable occupation by international students studying in Australia, the nursing profession; no doubt high on demand.
Nepalese in Nursing in Australia
There is an increased need for skilled medical employees in Australia due to the growing population. The Future Health Workforce of Australia estimated that it would require 123,000 nurses by 2030. Therefore, the right time to apply for a nursing course offered by an Australian university is now if you are passionate about helping others and possess all the required skills. Among the more popular nursing professions on the list are Nurse Practitioner, Nurse (Critical Care and Emergency), Registered Nurse (Aged Care), Nurse (Disability and Rehabilitation), Nurse (Developmental Disability), and Midwife. In 2019, the number of registered nurse migrants was nearly 564 in comparison to 2017-2018.
In Australia, you will find a wide range of jobs in every sector you can imagine, so if you plan to move there shortly, there's no limit to the types of jobs accepted – and of course, those types change year to year.
The number of available places has reduced from 2019 (probably because of the Coronavirus epidemic), but several occupations are still open. Economic growth needs restoration in Australia. A standard method of addressing skills shortages is to invite migrants to fill vacancies. Although you may not possess a qualification on the list of jobs, you might still be able to apply for a job listed on the list by taking a course up to a certain level.
Where do Nepalese Australians live? 
A picture backgrounding Sydney opera house and Harbour Bridge is a must for Nepalese. For many Nepalese back home, Australia and Sydney are synoname. But, not all Nepalese in Australia living in Sydney.
Where do the Nepalese community live in Australia?
Basically, everywhere in Australia, though the number may be high or less, Nepalese are everywhere in Australia. Sydney, Brisbane, Perth, and Melbourne are the most common areas where Nepalese live in Australia. If you go through a dense population measure, suburb by suburb, Auburn is the suburb in Sydney where a majority of Nepalese live. Before that Rockdale was a popular spot for the Nepalese to live, but today the place is brutally abandoned by the Nepalese.
Another Sydney suburb of Hurstville is also a popular Sydney suburb where Nepalese love to live, which is only five kilometers from Rockdale.
Read Also: Nepali- The Second Most Spoken Language in Tasmania
It seems Auburn, Rockdale, Hurstville are more popular with Nepalese in Australia who are on temporary visas. Once settled in Australia many Nepalese started buying homes in Minto, Scholfield, Marsden Park, etc, Sydney suburb.
Recently, many international students moved into Tasmania, Canberra and Darwin to be eligible for Australian permanent residency. That increased the Nepalese population in those areas. Melbourne, Brisbane, Adelaide were always the choice of Nepalese to start their Australia migration journey but Sydney by the majority.
While talking about the Nepali language, Tasmania is far ahead. Tasmanian households speak Nepali third most frequently after English and Mandarin. It's because of the Bhutanese settlement.
NepaliPage,connects Australian Nepalese Community & Australian Nepalese Business Globally
Disclaimer: NepaliPage.com (नेपालीपेज डटकम) is a Nepalese Community website aggregating Nepalese Australian affairs including Australian Nepali Community News, Migration opportunities in Australia, Nepali International Students, Nepali home and garden, Nepali mortgage and real estate tips, tricks, and services, Travel, Entertainment, Nepalese Events, blogs, interview and many more. None of our stories is tailored expert advice for your circumstance, and cannot be taken as legal, migration, or any other expert advice. By nature, all of our contents provide general information on related topics from the various verified sources. We do not offer direct employment opportunities, Australian VISA help, and Migration assistance.