Australian government invited only 100 candidates to apply for Australian permanent residency visa subclass 189 in August. Giving all prior speculations a solid ground the invitation round on 11th of this month the Department of Home Affairs invited 200 candidates to apply for Australian skill visa. 100 were invited to apply for subclass 189 and another 100 invited for skilled regional provisional visa 489.
For skilled independent visa subclass-189 candidate have to score the highest point on SkillSelect to be invited. Australia government has pro-rata arrangements for occupations that in high demand. For this visa, a candidate doesn't need nomination either from state or employer. Once they granted 189-visa they can live anywhere in Australia, there is no restriction or condition set. The skilled regional provisional visa subclass 489 is state nominated visa, the candidate needs to get a nomination from local regional certifying body complying their criteria for it. If visa granted, they need to live and work in a designated regional area for at least 2 years before they get Australian permanent residency.
Australia runs the invitation round for Skilled Independent visa (subclass 189) and Skilled Regional (provisional) visa (subclass 489) once in a month most probably on 11. The invitation numbers to apply for these skilled visas varies on occupation ceiling as well as application processing by the department.
Read More: Why study regional Australia? PR, job and scholarship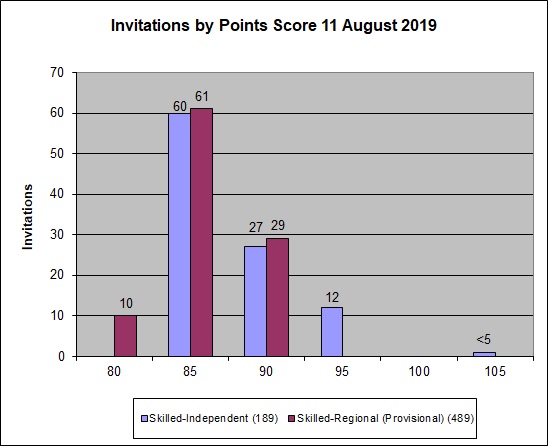 Source: Department of Home Affairs Australia figures.
As per the round results, to get invited Accountants, Auditors, Company Secretaries, and Corporate Treasurers have to manage points at least 85. Other pro-rata occupations Electronics Engineer, Industrial, Mechanical and Production Engineers, Other Engineering Professionals, ICT Business and System Analysts, Software and Applications Programmers, and Computer Network Professionals may get invited if claim at least 80 points on their EOI.
Read More: Moving Interstate? Darwin, Tasmania or ACT
Source: Department of Home Affairs Australia figures.
This round major number of the invitation sent to 85-point scorers, 60 invitations for 189 visa and 61 for 489. 27 invitations were for 90-point scorers for visa 189 got invited on 11the of August. There were some 12 who got invited to apply for subclass-189 who claimed 95 points on SkillSelect.
Read More: PR via regional migration pathways for NSW graduates
Source: Department of Home Affairs Australia figures.
How Australia invites candidates to apply for Skilled Independent visa 189?
Candidates who wish to live and work in Australia permanently with Australian permanent residency need to be a skilled worker listed occupation on Australian skilled occupation list. Australia awards various points based on skill, age, and experience as well as language competency. Based on those points the Department of Home Affairs selects candidates via SkillSelect and invites to apply for the visa subclass 189. Its skilled independent visa so candidates do not need to acquire any nomination from state or employer.
The highest-ranked candidates on SkillSelect by points score are invited to apply for the subclass-189 visa. If more than one candidate has equal points scores on the SkillSelect, the time at which candidate reached their points score for that subclass 189 visa commonly known as the date of effect determines when they would get an invitation. Expressions of Interest submitted earlier dates of effect get invited before the Expressions of Interest submitted on later dates.
With a high level of demand and backlog from previous years, some occupation groups are subject to pro-rata arrangement to make sure availability of invitations through the migration program year.
What after invited to apply for Skilled Independent visa 189?
Once a candidate gets an invitation from the department to apply for the skilled independent visa 189, need to login SkillSelect, there would be a link to lodge a visa application. To apply visa candidate need to create immi account and submit all supporting documents to support point claims on SkillSelect. Candidate should also create HAP ID and make a medical examination. Once the department verifies and gets satisfied with the things candidate would get a visa granted notification. After that Australian Permanent Resident life begins.
NepaliPage,connects Australian Nepalese Community & Australian Nepalese Business Globally
Disclaimer: NepaliPage.com (नेपालीपेज डटकम) is a Nepalese Community website aggregating Nepalese Australian affairs including Australian Nepali Community News, Migration opportunities in Australia, Nepali International Students, Nepali home and garden, Nepali mortgage and real estate tips, tricks, and services, Travel, Entertainment, Nepalese Events, blogs, interview and many more. None of our stories is tailored expert advice for your circumstance, and cannot be taken as legal, migration, or any other expert advice. By nature, all of our contents provide general information on related topics from the various verified sources. We do not offer direct employment opportunities, Australian VISA help, and Migration assistance.