Australian government invited one thousand interested skilled occupants to apply for 189 visa, that allows to live and work in Australia permanently. Recently released Department of Home Affairs data confirms the government invited 1000 candidates of various skilled occupations submitted their interest to migrate into Australia through the skilled independent stream. Additionally, the Australian government issued 300 invitations to apply skilled work regional (provisional) visa subclass 491. Newly introduced skilled work regional provisional visa subclass 491 is a pathway to Australian permanent residency after working and living in regional Australia for three consecutive years.

Invitation round on 1oth January 2020 shows one needs to score at least 90 points on SkillSelect to get an invitation for both visas 189 as well as 491. Six hundred forty-six candidates claimed 90 points on SkillSelect got invited, for 491-visa, 168 got invited. There were 285 candidates got invited to apply for skill independent subclass 189 visa standing on 95 points. The almost same number of candidates got invited for their 100 points on SkillSelect.
Read Also: Nepalese Man jailed for fake marriage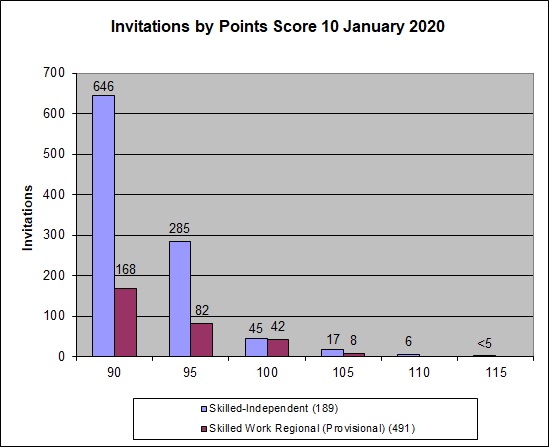 Source: Department of Home Affairs
The invitation round result confirms there were some candidates claimed 115 points on SkillSelect. Though the number is quite low, its evident that 115 point is achievable. Even 105-point also seems practical to achieve; there were 17 candidates who got invited on 10 January round who claimed 105 on their SkillSelect. The round result is evident that 90 points on SkillSelect seem a general need to be hopeful for an invitation. For all pro-rata occupation 90 points were minimum points for that round.
Though January round, first round in the year 2020, invited fourfold more candidates than December round but, still hopeless round for many international students and skilled worker aspiring 189 visa. Australia invited 4200 candidates for 189 visa in seven months altogether. Only 914 candidates invited to apply for skilled nominated visa subclass-190 visa in six months July to December 2019. Subclass-190 is also state nominated permanent visa.
NepaliPage,connects Australian Nepalese Community & Australian Nepalese Business Globally
Disclaimer: NepaliPage.com (नेपालीपेज डटकम) is a Nepalese Community website aggregating Nepalese Australian affairs including Australian Nepali Community News, Migration opportunities in Australia, Nepali International Students, Nepali home and garden, Nepali mortgage and real estate tips, tricks, and services, Travel, Entertainment, Nepalese Events, blogs, interview and many more. None of our stories is tailored expert advice for your circumstance, and cannot be taken as legal, migration, or any other expert advice. By nature, all of our contents provide general information on related topics from the various verified sources. We do not offer direct employment opportunities, Australian VISA help, and Migration assistance.