Canada, the most migrant friendly and welcoming country at the time wants more than a million new permanent residents through 2021. If you ever thought to move into Canada it's the time to act. As per the plan published the Canadian government will add the aforementioned number of immigrants in upcoming three years. The planned number is almost one percent of the Canadian annual population.
In the year 2017 Canada offered more than 286,000 permanent resident places. On the same year, Canada adopted multi-year plans to grow annual immigration levels to 340,000 by 2020. Canadian Minister of Immigration, Refugees and Citizenship Ahmed Hussen wrote ' Thanks in great part to the newcomers we have welcomed throughout our history, Canada has developed into the strong and vibrant country we all enjoy. Immigrants and their descendants have made immeasurable contributions to Canada, and our future success depends on continuing to ensure they are welcomed and well-integrated' on the 2018 Annual Report to Parliament on Immigration. 
The new immigration plan for 2019-2021 replaces previous three-year plan with adjustments to announced targets for 2019 and 2020 in the year 2017. Under the newly announced immigration plan, the Canadian government will target more talented and skilled workers to strengthen the Canadian economy. Canada also focusing on reuniting family members and accommodate more refugees who want to settle and help the Canadian economy to grow.
Read Also: Anxious students eying Canada for PR

For Canada, immigration has been a significant part of the country to develop economies and maintain sustainable growth. It's the world's leading country for managed and skilled migration program and successful to compose multicultural identity. Based on 2017 data, India and Philippines are top source countries from where immigrants come into Canada. The Report to Parliament mentions that one out of five Canadian is immigrant.
Read Also: How to get an Australian Work Visa?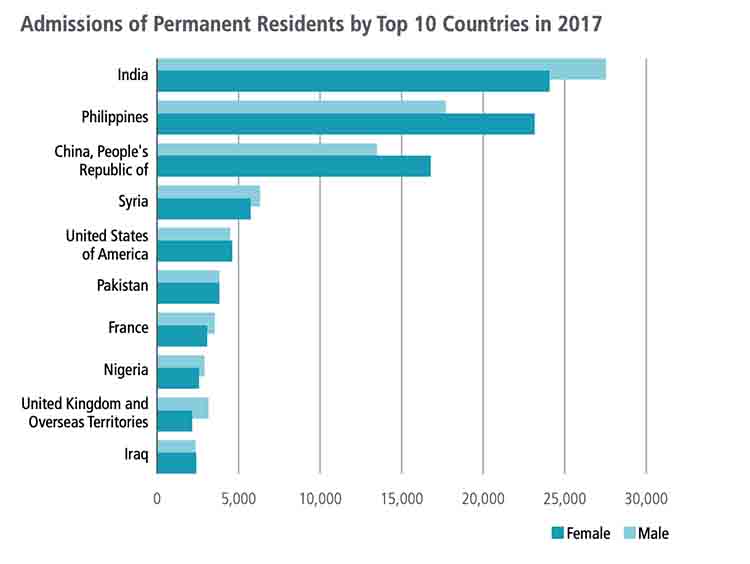 Canada is popular among Nepalese too, many Nepalese has settled their life in Canada. As it has a flexible migration plan that includes express entry as well as federal and provincial sponsorships, many Nepalese students in Australia eyeing to move into Canada from Australia. Canada is opening doors to skilled workers to settle in Canada, whereas international students finding a bit hard to get permanent residency in Australia after completing their study.
NepaliPage,connects Australian Nepalese Community & Australian Nepalese Business Globally
Disclaimer: NepaliPage.com (नेपालीपेज डटकम) is a Nepalese Community website aggregating Nepalese Australian affairs including Australian Nepali Community News, Migration opportunities in Australia, Nepali International Students, Nepali home and garden, Nepali mortgage and real estate tips, tricks, and services, Travel, Entertainment, Nepalese Events, blogs, interview and many more. None of our stories is tailored expert advice for your circumstance, and cannot be taken as legal, migration, or any other expert advice. By nature, all of our contents provide general information on related topics from the various verified sources. We do not offer direct employment opportunities, Australian VISA help, and Migration assistance.