Thousands of Australian visa holders got their visa revoked and forced to leave the country because of bad character. Australian government canceled almost eight thousands of visas since 2014 on the character ground. According to the Migration Act, to remain in Australia under the visa granted one need to be with a good character and clean criminal history.
According to the government graph, almost 4,700 visas were stripped after the 2014 amendments on  Migration Act. Those who lost their visa were convicted or involved in criminal activities.  Australia has the mandatory visa cancellation provision for those been sentenced to death, imprisonment for life or longer than a year as well as convicted for child sex abuse. Drug offenses, assaults, child sex offenses, armed robbery, violent offenses, fraud, deception, domestic violence even driving offenses could lead to visa cancellation. The amendment has given government removal power to visa holders whose visa canceled under the character ground.
Read More: Australia canceled thousands of student visas
The Department of Home Affairs data shows 888 people had their visa revoked in the year 2018. Among them, 411 were from New Zealand, 93 from the United Kingdom and 44 from Vietnam. 12 Indians and 22 Chinese nationals got their visa cancellation on the character ground. Australia government is now further tightening the character test and requirements.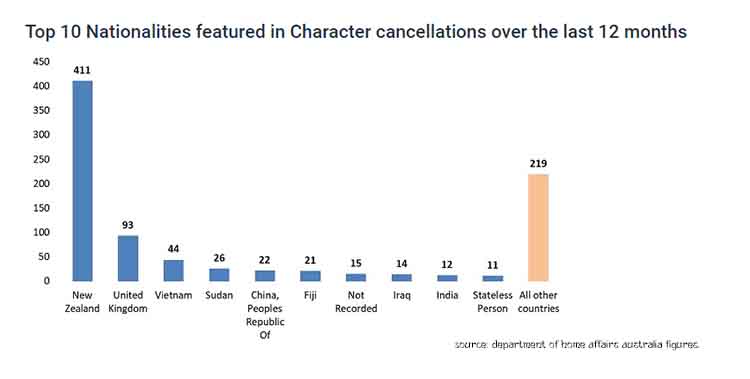 Read More: Hardworking visa condition breacher international student would face deportation
NepaliPage,connects Australian Nepalese Community & Australian Nepalese Business Globally
Disclaimer: NepaliPage.com (नेपालीपेज डटकम) is a Nepalese Community website aggregating Nepalese Australian affairs including Australian Nepali Community News, Migration opportunities in Australia, Nepali International Students, Nepali home and garden, Nepali mortgage and real estate tips, tricks, and services, Travel, Entertainment, Nepalese Events, blogs, interview and many more. None of our stories is tailored expert advice for your circumstance, and cannot be taken as legal, migration, or any other expert advice. By nature, all of our contents provide general information on related topics from the various verified sources. We do not offer direct employment opportunities, Australian VISA help, and Migration assistance.