With the upsurge in cases of the Omicron COVID-19 variant, Nepal has placed new travel guidelines for European travellers. The new Nepalese Travel Guidelines has changed the way you get into the country along with visa arrangements.
With the Omicron virus surfacing upscale in the European countries, Nepalese who have made plans to visit Nepal in 2022 are left wandering on the travel guidelines. When asked to the nearest fellow in the locality, different assumptions are laid upon which is confusing, this article demonstrates the travel guidelines to Nepal from Europe.
In Nepal, the entry rules are set and enforced by the authorities of Nepal, therefore Nepalese whether NRN or students or travellers they must comply with the COVID-19 travel guidelines when returning back. If unsure what you can do is consult the country's embassy present in any of the European nations, high commission, or consulate for further information.
Additionally, make sure your passport and other travel documents meet the requirements of your transport provider or travel company.
The following arrangements have been made regarding visas in connection with COVID-19 for the EU nation. 
Read Also: Visa On Arrival for the visitors willing to travel Nepal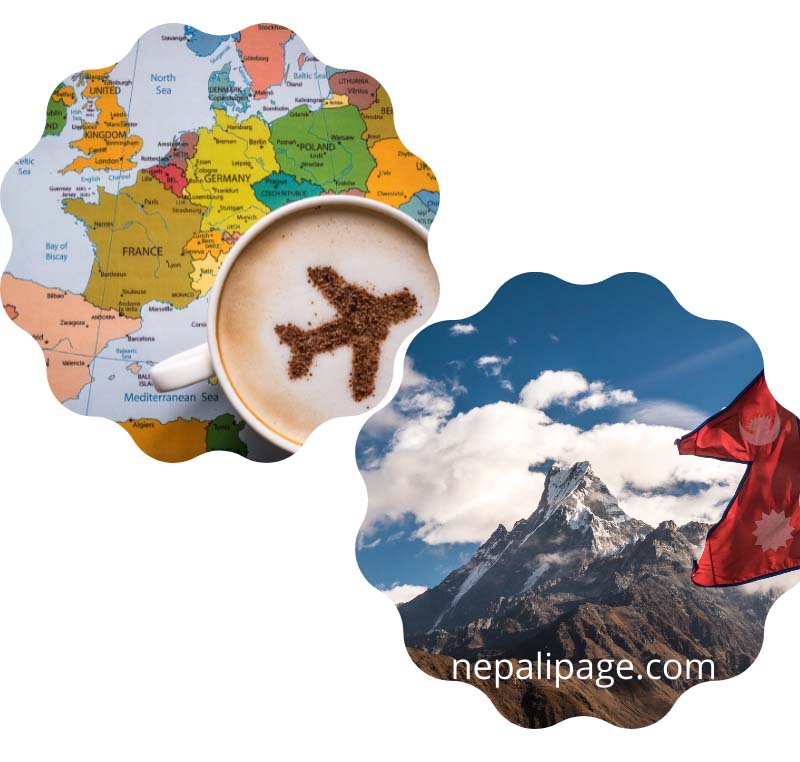 Nepalese travel guidelines for Europeans linked to Omicron 
A travel permit suspension has been in effect for travellers from South Africa, Botswana, Zimbabwe, Namibia, Lesotho, Eswatini, Mozambique, Malawi and Hong Kong upon the introduction of the Omicron variant on 2 December 2021.
According to the Omicron situation, the Department of Immigration may issue a travel advisory for travellers from countries other than those stated in (a), which means European countries too must follow the travel protocols. Along with the other provisions, the travel advisory could include suspension of the on-arrival visa and a mandatory seven-day quarantine at a hotel upon arrival from any of the European nations.
However, Nepali citizens, holders of diplomatic or official passports and foreign nationals with a residency visa of Nepal. They can go into home quarantine for 10 days if they are fully vaccinated before 14 days of their arrival in Nepal from any of the European nations, have PCR test results showing not earlier than 72 hours after their first boarding, and don't show any symptoms of COVID-19.
On-arrival visa for European nations
After 14 days of vaccination before arriving in Nepal, the government of Nepal will again grant visas upon arrival to those who have taken the total dose of vaccination. Visas-on-arrival can be obtained under the following conditions.
The visitor must submit additional documents for the visa from Europe
A vaccination certificate for COVID-19, showing the last dose, is required before entering Nepal from Europe.
An approved COVID-19 test (RT-PCR, Gene Expert, True NAAT, WHO accredited) must be performed within 72 hours of entering the country or boarding the plane. A report will not be required for children under five years of age.
Copies of permits if mountaineering, trekking or other activities require prior permission.
Hotel confirmation for Nepal, before leaving Europe.
You must print and fill out the International Traveler Online Arrival Form online at ccmc.gov.np.
At the immigration point in Nepal, foreigners arriving from Europe must take the COVID-19 test. Those who test positive for COVID-19 must go to an isolation centre or hospital designated by the Ministry of Health and Population.
Suppose the passenger's hotel does not accommodate such a test facility. In that case, they must make the COVID-19 test at any place near the hotel until the result is negative.
The visa-on-arrival facility in Nepal is available to passport holders of countries eligible for the policy. Nepal does not offer visa-on-arrival for all countries, so you need a visa to enter the country.
Read Also: I've tested positive to COVID. What should I do now?
European travellers without a full dose of vaccinations.
No one can apply for a visa-on-arrival if they do not have a certificate of full dose vaccination. Applicants for Nepal visas must apply at the Embassy in Kathmandu located in any of the European countries. Persons with these conditions must stay in the hotels listed here in Kathmandu for 10 days for hotel quarantine.
A COVID-19 test must be taken on the 10th day at their own expense, and a result must be awaited. If the test results are negative, they may depart the hotel. The Nepalese government will designate an isolation centre or hospital if the test results are not favourable.
Suppose the COVID-19 test results at the entry point are negative. In that case, people who did not complete their vaccination while travelling from Europe, such as diplomats and family members of UN staff, staff of international organizations and international NGOs, may be quarantined for ten days at a location recommended by the diplomatic mission or organization.
The applicant should submit the following documents to the Embassy if they have not completed the vaccination schedule before 14 days of arrival in Nepal:
Justify your non-vaccination with valid reasons.
It is required that the traveller submit a health insurance policy covering health expenses during their trip to Nepal.
Reservations must be made at least 10 days in advance in the designated hotel for quarantine in Kathmandu.
Individuals and families of Nepali origin (NRN) and other Nepalese 
Foreign citizens who are living in or travelling to European countries, or Nepalese citizens who have foreign passports, must comply with the following requirements upon returning or returning to Nepal:
For NRNs and their families (spouses and children), foreigners married to a Nepali citizen, and Nepalese returning home, what they should bring is:
The certificates must at least be 14 days old and confirm that the full dose of COVID-14 was administered.
An approved COVID-19 test report (RT-PCR, Gene Expert, NAAT, or WHO accredited test) showing a negative result should be generated within 72 hours of boarding from the first airport.
You can print a copy of the online form (International Traveler Online Arrival Form) if you log into ccmc.gov.np.
If these persons do not have any symptoms of COVID-19, they will be permitted to travel from Europe to Nepal. They must undergo a compulsory antigen test if any sign of COVID-19 is found, and they will be hospitalized or placed in isolation. The traveller must pay for testing and isolation/hospitalization.
In addition to Nepalese citizens, European who marry Nepalese citizens can obtain a visa upon arrival. Foreigners can also receive a visa at the Embassy. As part of the application at the Embassy, they must also submit the following documents:
Any evidence that you are of Nepali ancestry.
At least 14 days ago, the full dose of COVID-14 vaccination was completed.
A complete dose of vaccination must have been completed at least 14 days before their arrival:
Those who did not receive a full dose of vaccinations before arriving in Nepal must take the compulsory COVID-19 test at the point of arrival. Negative test results mean that the individual can travel to their destination, and positive test results suggest that they will have to stay in isolation or be hospitalized.
For European nationalities visiting Nepal, what are the rules?
If the test shows a negative result, you must have the certificate of negative PCR results within 72 hours of their boarding, or you must provide a full record of their vaccinations. Children under five do not require any vaccinations.
The expenses for COVID-19 tests, quarantine at hotels, hospitalization, and being in isolation have to be covered by you.
You must make a COVID-19 test as soon as possible if you suspect COVID-19 symptoms. The patient who tests positive will be isolated.
Tourists can remain in hotel quarantine, while those residing in Nepal can stay in their homes if they fulfil the criteria mentioned above.
Check out this list of hotels where you can stay in quarantine.
During their stay in Nepal, all travellers to Nepal must observe hygiene guidelines established by the Ministry of Health and Population of Nepal.
For further query, you can post your question in our comment section below!
NepaliPage,connects Australian Nepalese Community & Australian Nepalese Business Globally
Disclaimer: NepaliPage.com (नेपालीपेज डटकम) is a Nepalese Community website aggregating Nepalese Australian affairs including Australian Nepali Community News, Migration opportunities in Australia, Nepali International Students, Nepali home and garden, Nepali mortgage and real estate tips, tricks, and services, Travel, Entertainment, Nepalese Events, blogs, interview and many more. None of our stories is tailored expert advice for your circumstance, and cannot be taken as legal, migration, or any other expert advice. By nature, all of our contents provide general information on related topics from the various verified sources. We do not offer direct employment opportunities, Australian VISA help, and Migration assistance.