One of the renowned Nepalese education consultancies Unicampus has opened its operational office in Adelaide. The South Australian city has emerged as an educational hub for Nepalese students. Ashok K.C. the vice president of NRNA Australia (Non-Resident Nepalese Association) inaugurated the office on 22, Feb 2019.
Founded in 2001 the Nepalese education consultancy has established itself as a brand for quality counseling for those planning to start education and career in various countries including Australia. Bigyan Shrestha, Managing Director of the consultancy said, Unicampus has its close knot with Adelaide and growing student base in the region pushed them to start services in Adelaide. He further added, Unicampus is actively promoting Adelaide as the region offers a lot of opportunities for international students.
The Nepalese education consultancy represents seven Adelaide based education providers including the University of South Australia, Torrens University and TAFE South Australia. Unicampus in a press statement mentioned their office in Adelaide would offer help for students to open a bank account, arrange a city tour, airport pickup, finding room and accommodation, taxation, preparing resume as well as guide students to find part-time jobs. 
There are various problems surfacing these days in Australia related to Nepalese international students. Often students blame Nepalese education consultancies for ill informing the study Australia aspirant students in such scenario Nepalese community in Australia seeking ethical education consultancy practices so we are Unicampus director Ghanashyam Ghimire told.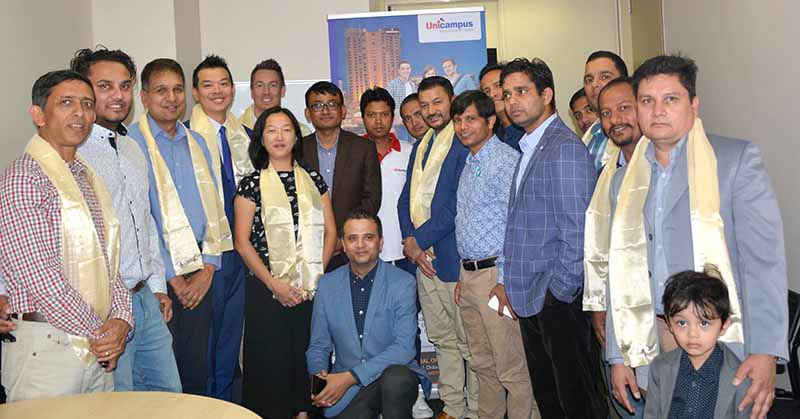 The education consultancy Unicampus Global is located at Unit 36, Level 1, 55 Gawler Place, Adelaide 5000.
NepaliPage,connects Australian Nepalese Community & Australian Nepalese Business Globally
Disclaimer: NepaliPage.com (नेपालीपेज डटकम) is a Nepalese Community website aggregating Nepalese Australian affairs including Australian Nepali Community News, Migration opportunities in Australia, Nepali International Students, Nepali home and garden, Nepali mortgage and real estate tips, tricks, and services, Travel, Entertainment, Nepalese Events, blogs, interview and many more. None of our stories is tailored expert advice for your circumstance, and cannot be taken as legal, migration, or any other expert advice. By nature, all of our contents provide general information on related topics from the various verified sources. We do not offer direct employment opportunities, Australian VISA help, and Migration assistance.