The country, Nepal offers multiple romantic attractions like mountains, deep valleys, narrow pathways, and tranquil lakes. Nepal combines an aura of magic and myth, spirituality and serenity. Honeymooners will find it a perfect paradise. You will find that the dreamland will provide you with the best romantic moods, atmospheres, and spirits to make your love bloom to the fullest. Nepal's paradisiacal spots are guaranteed to tickle your fancy, whether you want to create new memories or revive old ones.
Honeymoon Destinations In Nepal: 11 Best Places
For your most awaited honeymoon, here are the 11 best honeymoon destinations in Nepal. They offer blissful views of nature and unmatched bliss.
Pokhara: A Nirvana for newlyweds
Kathmandu: A Casino Royale honeymoon
Bandipur: A tranquil oasis
Nagarkot: A romantic getaway
Bardia: The Jungle Book
Daman: Away from the crowds
Chitwan: The wildlife adventure
Godavari: Upholding the marriage bliss
Sarangkot: The peaceful retreat
The Mustang: The mystic aura
Patan: The Spiritual Front
Pokhara: Nirvana for newlyweds
For honeymooners, Pokhara – the city of lakes – can be a superb and enthralling destination in Nepal. Newlyweds will see Pokhara as a dreamland, with its stunning Himalayan scenery, lakes, deep valleys, and winding trails. Several luxury accommodations make the place a honeymooners' dream.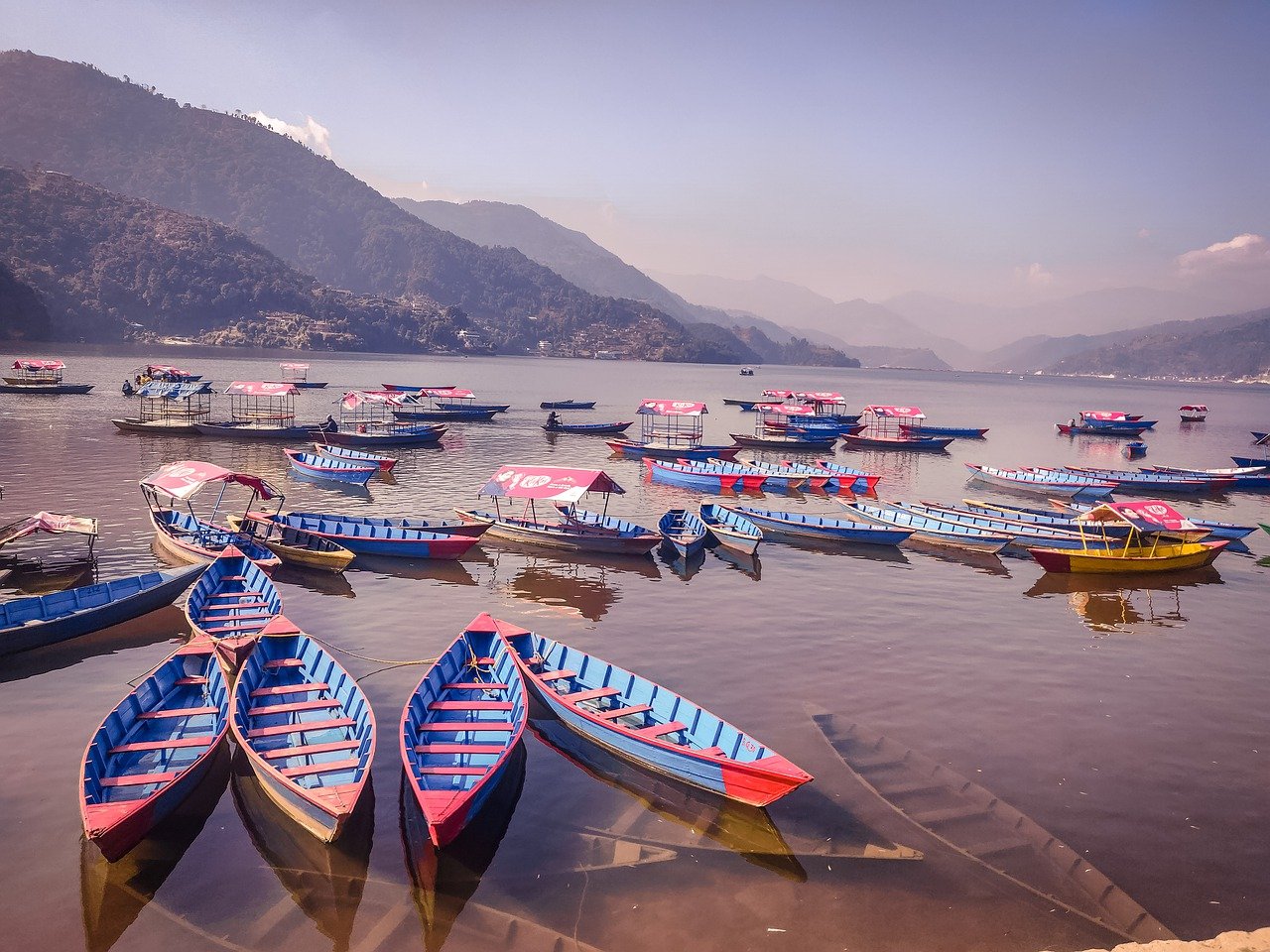 Key attractions: You will have the opportunity to see the fascinating Annapurna Range, explore the romantic Phewa Tal (nearly the second-largest lake in Nepal) and paraglide over the Phoenix of Annapurna and Dhaulagiri ranges.
Best time to visit: March-May when there is no fog and the weather is pleasant.
Kathmandu: A Casino Royale honeymoon
Nepal is one of the best honeymoon destinations globally if you want to continue the vibrant, colourful wedding theme. Among the best places to visit for a honeymoon in Nepal is the capital city, rich in culture, traditions, colours, and customs. Despite the glitzy nightlife and casinos, it is also very safe.
Read Also: 10 hotels for honeymoon couple in Nepal
Key attractions: Kopan monastery, the wild Langtang National Park, and Casino Royale and Casino Anna, both known for their alluring and glittering nightlife. All these are just some of the sights you'll find when you book your vacation packages.
Best time to visit: September to November and February to April for Kathmandu, monsoon season for Himalayan scenery.
Bandipur: A tranquil oasis
Thematic honeymoons are possible in this place. Experience and learn about Nepal's fascinating and serene Bandipur culture on your first trip with your life partner. The setting creates the perfect ambience to capture your love-filled memories, offering a picture-perfect atmosphere for sweet memories.
Key attractions: Experience the thrill of the Siddha Gufa, Annapurna trekking in a short circle, and a serene silkworm farm.
Best time to visit: March-May is the best time to visit. Likewise, the month of December January is also the best season to visit the tropicals of Bandipur.
Nagarkot: A romantic getaway
The picture-perfect backdrop to your honeymoon is the world's highest peak in Nagarkot. One of the best honeymoon destinations in Nepal is Nagarkot, which will catch you by surprise.
Not convinced? Plan your honeymoon visit and personally enjoy the aura of the destination.
Key attractions: Views of Mount Everest and the Annapurna Range, sightings of the first rays of the Sun falling on the Himalayan peaks at sunrise, and hiking in the dense forests and winding paths is the adventure you can perform together with your life partner.
Best period: The best time to go is from October to April to see Mount Everest. While in the fall of November, December and January, you can experience snowfall in the nearby areas of Nagarkot.
Bardia: The Jungle Book experience
You can spice up your honeymoon in Nepal with a dash of adventure and thrill at Bardia National Park. Relax in Asia's most extensive tiger habitat for a few days and enjoy a few fun-filled days with your loved one.
Read More: 10 hotels for honeymoon couple in Nepal
Key attractions: Wildlife safaris, elephant and crocodile breeding centres, Tharu Cultural Museum
Best time to visit Bandipur: It's best to visit during all seasons except the monsoon the season when animals breed.
Godavari: Upholding the marriage bliss
The Godavari is a small, beautiful, and very peaceful hill station, perfect for newlywed couples. It's the ideal place to relax and enjoy your Nepal honeymoon experience. Your honeymoon in Nepal will be unforgettable.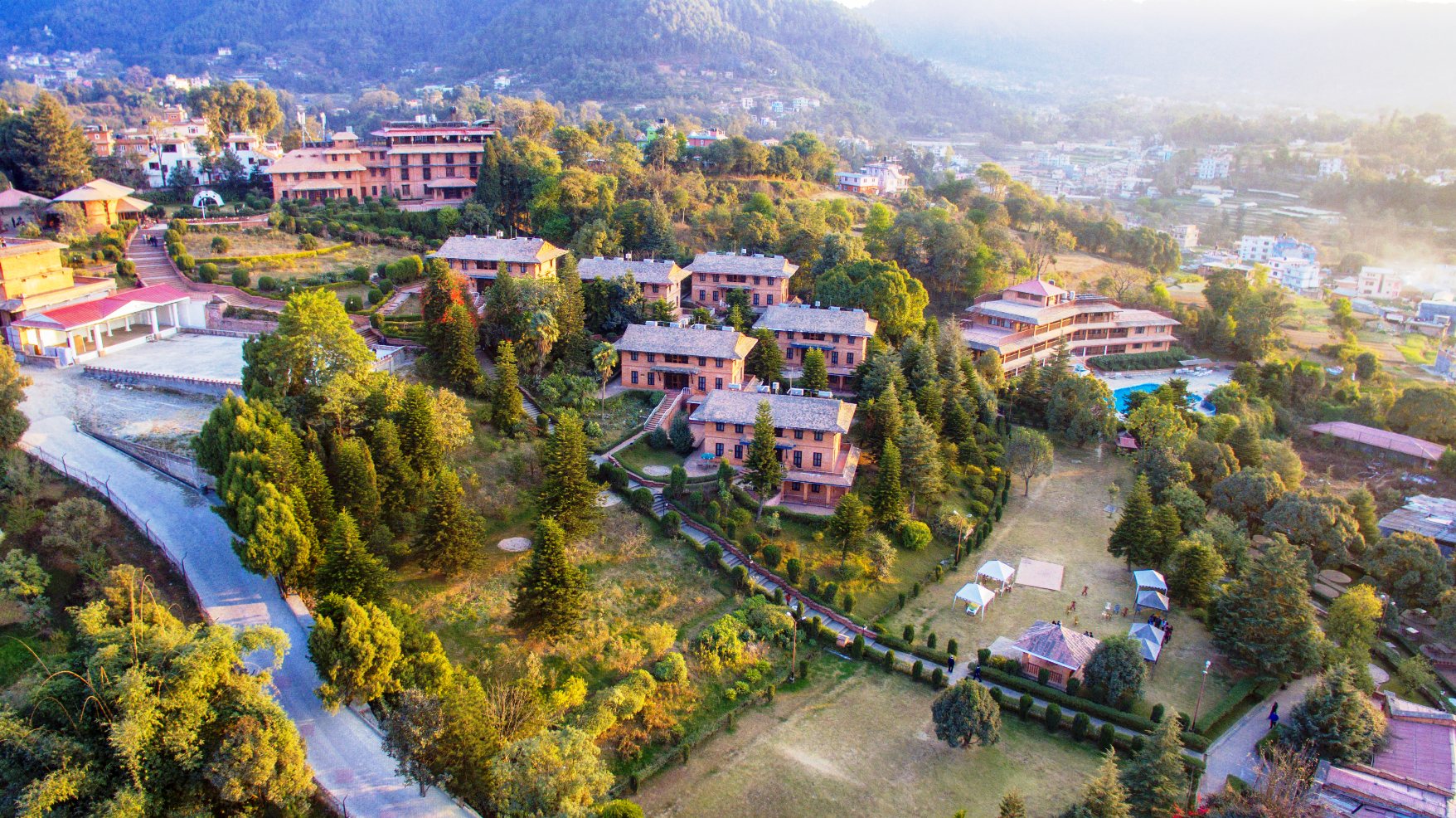 Key attractions: The Noidhara Pagoda, the National Botanical Garden, and the meandering mountain trails
Best time to visit: You can visit the Godavari throughout the year. For a quick escape to the closest nature, you can always count on the Godavari.
Sarangkot: The peaceful retreat
In Nepal, Sarangkot makes for an ideal honeymoon destination thanks to its small size and serene atmosphere. Lovebirds will find the breathtaking scenery along the ridge of Sarangkot a complete delight. We can promise you that a unique experience awaits even if you are not one.
Key attractions: Seeing the Himalayas and its peaks in a seamless projection, watching the sunrise and sunset, and zip-lining
Best period: During February-April and September – November is the best time to visit.
Daman: Away from the crowds
One of the lesser-visited honeymoon destinations in Nepal is Daman. The perfect place for some exclusive intimacy and bonding away from the hustle-bustle of tourists during a remote and fairy-tale-like vacation.
Rhododendrons and a panoramic view of the Himalayas from Mount Everest to Dhaulagiri are the highlight attractions.
Best time to visit: February – April for the early spring and November-December for embracing the snowfall.
Chitwan: The wildlife adventure
Chitwan makes an ideal Nepal honeymoon destination for those who enjoy jungle safaris and nature walks. In an environment that sets the perfect romantic mood, you will be able to reignite that spark in your relationship.
Read Also: 10 hotels for honeymoon couple in Nepal
A few of the most popular activities you can do with your partner are boating on the Narayani River, safaris through the jungle, and elephant trekking. You can do them together.
Best time to visit: You can plan for Chitwan throughout the year. The place is divine for any month.
The Mustang: The mystic aura
Mustang lies near the border between Nepal and Tibet, at the far corner of Nepal. The region is peaceful and isolated. Mustang is one of the best honeymoon places in Nepal because of its mythological aura and natural beauty. Mustang is no doubt a fantastic destination for adventure-loving couples.
Key attractions: Trekking through Mustang and visiting the ancient walled city of Lo Manthang with its palace and monasteries
The best period to visit  Mustang: During February – April and September – November is the best time to visit
Patan: The Spiritual Front
A spiritual honeymoon in Nepal can be enjoyed at Patan, a centre for art and culture. In this way, the honeymoon will be even more colourful as all the different facets of Buddhist and Hindu culture are visible. You and your partner will love this unique experience; make sure you include this place in your itinerary.
Key attractions: The Golden Temple (Kwa Bahal), the Patan Museum, the Krishna Mandir, Darbar Square, and Mul Chawk.
The best period to visit Patan: You can visit at any time of the year.
Read Also: 7 best honeymoon destination overseas from Nepal
Consider starry-eyed Nepal's honeymoon destinations instead of the annoying tourist destinations. You can travel with your significant other to Nepal right now for a breathtaking experience. Enjoy your honeymoon!
Frequently Asked Questions on Nepal Honeymoon In 2021
Does Nepal make a good honeymoon destination?
What is the honeymoon scene like in Nepal? It is a beautiful place to go on a honeymoon for several reasons, not just because of Mount Everest and scaling peaks. However, some couples might also enjoy that, but also for a variety of other reasons. There are some beautiful lakes in Pokhara, and there are some cultural attractions in Kathmandu.
Does Kathmandu have a good reputation for honeymoons?
For honeymooners, Kathmandu is a good option in exploring historical sites, national parks, wildlife sanctuaries, and temples. … Boudhanath in Kathmandu's most spiritual place and a must-visit for newlywed couples who hope to achieve bliss and happiness in their marriage.
What is the cost of travelling to Nepal?
For a seven-day trip to Nepal, an individual will pay $1,135; a couple will pay $2,024, and a family of four will pay $688. Typically, hotels in Nepal cost between $25 and $146 per night on average, while vacation rentals generally cost $30 to $280 per night.
NepaliPage,connects Australian Nepalese Community & Australian Nepalese Business Globally
NepaliPage.com (नेपालीपेज डटकम) is a communal platform of Australian Nepalese Community to share common interest news, views and reviews. As a Nepalese Australian Community Media NepaliPage aggregates News, Australian Nepali Community Affairs from all around Australia in both Nepali and English language.
Initially the website domain was registered in 2016 and used to write on Nepalese international students issue when majority of Nepalese were struggling to find authentic information regarding jobs and settlements in Australia. At that time it was the most visited website by Nepalese in Australia. Later on, with expanding Nepalese Australian population in Australia the website started expanding its service to support Nepalese Businesses and start-ups in Australia. Now, NepaliPage.com is one of the largest Nepalese Community Media Platform in Australia.
Disclaimer: NepaliPage.com is a Nepalese Community website aggregating Nepalese Australian affairs including Australian Nepali Community News, Migration opportunities in Australia, Nepali International Students, Nepali home and garden, Nepali mortgage and real estate tips, tricks, and services, Travel, Entertainment, Nepalese Events, blogs, interview and many more. None of our stories is tailored expert advice for your circumstance, and cannot be taken as legal, migration, or any other expert advice. By nature, all of our contents provide general information on related topics from the various verified sources. We do not offer direct employment opportunities, Australian VISA help, and Migration assistance.