Our honeymoons are the most luxurious you've ever experienced within your budget – you won't believe what we have planned! Choose from 7 international honeymoons within your budget. Want a romantic honeymoon getaway that fits your budget when you get married soon? No problem, we've taken care of that for you! We have compiled a list of 6 exotic honeymoon destinations for you and your sweetheart. Consider your budget before selecting a package, as every destination has something unique to offer. The following are some of the top budget honeymoon destinations outside of Nepal. You should check them out! Treat yourself to a fabulous vacation!
The 7 Best International Honeymoon Destinations From Nepal on a Budget
You can find the best international honeymoon destinations on a budget for 2021 and 2022 year. They all fall within a wide range of budgets. Whatever your taste, they all offer a lot of options. Check them out!
1. Exotic Experiences in Mauritius and Reunion Island
Would you like a honeymoon on an exotic beach? Check out Mauritius and Reunion Island. These islands are among the best international honeymoon destinations!
The possibilities are endless for couples:
Go dolphin watching.
Go catamaran cruising.
Paraglide while experiencing the sensations of a tandem free flight.
Hire an underwater sub scooter or enjoy a relaxing Jacuzzi experience as a couple.
You can trek up the Reunion Islands active volcano to experience an adventurous honeymoon.
Trip duration: 6 nights/ 7 days 
Package cost: Starts from 1.5lacs per couple 
Best time to visit: September to December and April to June 
Visa status: Visa on arrival is given to the Nepalese citizen, which is valid for the period of 60 days. 
Best known hotels in Mauritius: Les Lodges Vanilliers, La Caz' Des Orangers, Iloha Seaview Hotel, Grand Hotel du Lagon, Palm Hotel & Spa
Currency used in Mauritius: Mauritian rupee
Language: English 
Quick tips for the honeymooners: Renting a car is the best way to explore Reunion Island.
Read Also: 7 affordable wedding gifts for the wedding season
2. Vietnam – A Budget Friendly, Simply Amazing Country
Don't wish to compromise on the exotic experience of an international honeymoon despite being low on budget? Consider Vietnam! Those who appreciate both history and culture will find it to be a pleasant honeymoon destination on a budget. Try trekking in Vietnam for a thrilling vacation if you are an adventurous couple! For adventure seekers on a budget, this is the best honeymoon destination.
Things to do: You can stroll hand-in-hand along the beach while you enjoy the beautiful sunsets in Vietnam.
Trip duration: 6 nights 7 days
Package cost: The package for Vietnam starts from Rs.80,000/-
Best time to visit: November through mid-April is the best time to visit Vietnam
Visa status: An electronic visa may be obtained on arrival at a travel agency if it has been approved online in advance.
Best known hotels in Vietnam: The Siesta Diamond Hotel, The Golden Sun Villa, Emerald Waters Hotel, Lantana Boutique Hotel, Pham Gia Boutique Villa
Currency used in Vietnam: Vietnamese Dong
Language used in Vietnam: Vietnamese
Quick tips for the honeymooners: Cruise on Halong Bay for a romantic getaway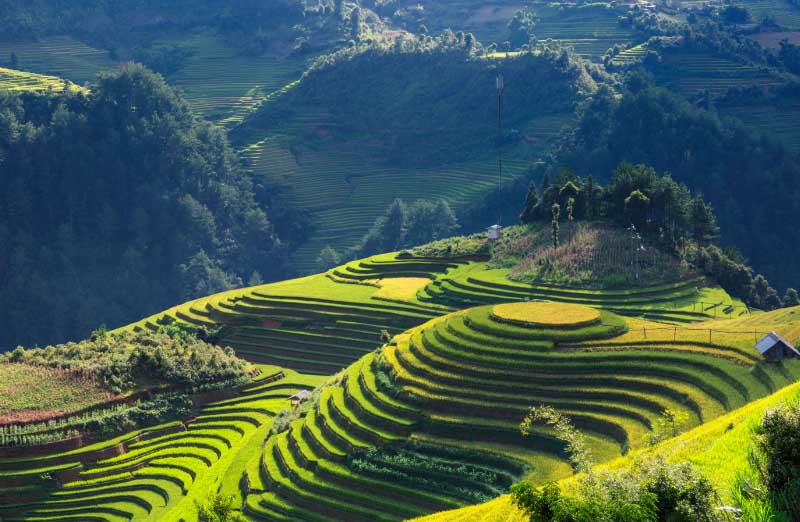 3. Italy- Lover's Paradise
Honeymooners have always been attracted to Italy for various reasons. Rome, Milan, Naples, and Bologna are just a few of the attractions in Italy, which means you will never get bored there, and you would not want to leave this European country.  
Things to do: Visit the Colosseum in Rome, ride a Gondola in Venice, drive around the Amalfi Coast.
Trip duration: 7 nights/8 days
Package cost: The package for the Italy trip starts from Rs.1.5 lacs
Best time to visit: September to October and April to June
Visa Status: One needs to apply for a tourist visa to visit the destination.
Best-known hotels in Italy: Among the hotels in Antibes are NemeaAppart, Hotel Ibis Antibes Sophia, Nerva Boutique Hotel, Miramonti Boutique Hotel, and Santa Caterina Hotel.
Currency used in Italy: Euro
Language used in Italy: Italian
Quick tips for the honeymooners: Italy has many exciting cities, including Rome, the Vatican, Tuscany, and Venice! Make sure you visit them all!
Check Flights and Tickets cost with Qatar Airlines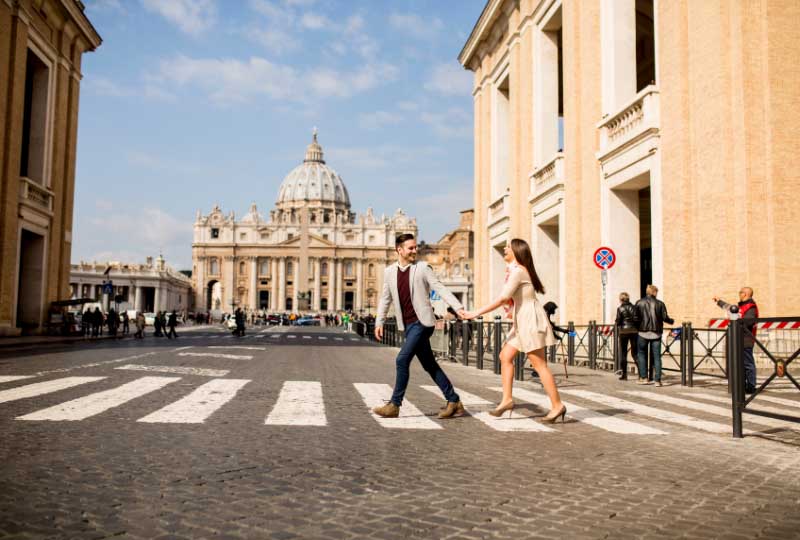 4. Turkey – A Resort, Club, And More
On our list of the top international honeymoon destinations, the next one is inexpensive. There is vibrant nightlife in Turkey and several shopping malls, resorts, outdoor attractions, and charismatic harbours where you can spend an exciting holiday. Enjoy a romantic honeymoon in one of the world's most surreal locations.
Things to do: When you're in Turkey, the only thing you must do is go hot air ballooning with your loved one. Furthermore, experience a couple of spas and dine in caves while travelling to exotic destinations.
Trip duration: 5 nights 6 days 
Package cost: The package for turkey starts from Rs.2.5 lacs
Best time to visit: June to December
Visa Status: You must apply for a visa online or if you are unsure, you can take help from the travel agency in getting one.
Best-known hotels in Turkey: There are four Four Seasons Hotels in Istanbul, the Tuvana Hotel, the Gloria Serenity Resort, and the Tomtom Apartments in Cappadocia.
Currency used in Turkey: Turkish Ira
Language used in Turkey: Turkish
Quick tips for the honeymooners: Do visit the hotel air balloon and enjoy the luxurious Turkish meal 
Check Tickets and Airfare with Kiwi.com for cheaper deals
5. Egypt – There's More to It Than Pyramids
On a budget, Egypt is a great honeymoon destination. Pharaoh's Egypt is a land rich in mystery and romance. The country is among Nepal's most fantastic budget honeymoon places because you can dwell in the past while you enjoy an extravagant honeymoon in the present.
Things to do: While you shop in El Haram's narrow streets, experience the luxury of Alexandria's 4000-year-old monuments as you relax on the shores of the 'pearl of the Mediterranean' – Alexandria.
Trip duration: 4 nights/ 5 days 
Package cost: The package starts from Rs.100,000/-
The best time to visit: The ideal time to take a tour to Egypt would be from October to May. 
Visa Status: Before moving to Egypt, Nepalese need to apply for visa online. 
Best-known hotels in Egypt: The Coral Sea Holiday Resort and Aquapark, the Steigenberger Alcazar, the Baron Palms Resort Sharm El Sheikh, and Sinai Old Spices B&B.
Currency used in Egypt: Egyptian pound
Language used in Egypt: Arabic 
Quick tips for the honeymooners: Exploring the Great Pyramid from inside is a must.
Read Also: 5 Must Visit Places During Your Trip To Australia
6. Bali – A honeymoon tour with the sunset dinner cruise 
Honeymooners from around the world love Bali – and it's easy to see why. Whether you are interested in unending idyllic beaches, vibrant coral reefs, serene waterfalls, majestic temples, rice paddies, or exotic sunsets, this magnificent tropical paradise offers a host of exciting activities.
Visit the Tanjung Benoa and Jimbaran bays to enjoy the view of resting boats, clear blue skies, and golden sand. Experience the sunset at Uluwatu Temple, the soothing sound of the Tengenuguan waterfall, and the stunning views at Uluwatu Temple. 
Things to do: A spa session, romantic cruise dinner, visit the majestic temples of Bali with the exotic sunsets. 
Trip duration: 4 nights/ 5 days
Package cost: The package starts from Rs.60,000/-
Best time to visit: You can visit Bali throughout the year.
Visa status: You need to take visa online, before heading out for honeymoon.
Best known hotels on Bali: Amankila, Hotel Tugu Bali, Capella Ubud Bali, Alila Villas Uluwatu, Como Uma Ubud, Bambu Indah 
Currency used in Bali: Indonesian Rupiah 
Language used in Bali: Bhasa and English 
7. Dubai – A honeymoon adventure in the dessert 
Dubai offers so much to its visitors, including romance, luxury, adventure, and more. Additionally, if we were to evaluate it based on all its experiences, it would look something like this:
Things to do: Bateaux Dubai Cruise, Spa date, Dessert safari and camping experience, Take a tour to Burj Khalifa, Dubai Mall, Dubai Aquarium, Dubai Miracle Garden, Wild Wadi Water Park, The Dubai Fountain, Jumeriah Beach. 
Trip duration: 4 nights/ 5 days 
Package cost: The package starts from Rs.80,000/-
Best time to visit: Dubai is not advisable to be visited during festival months like Ramadan since the law is stringent. Smoking, eating, and drinking are not permitted.
Visa status: You need to apply for visa before landing in Dubai. 
Best known hotels in Dubai: Hyatt, Radisson, Palm Jumeriah, Hotel Excelsior
Currency used in Dubai: AED 
Language used in Dubai: Arabic & English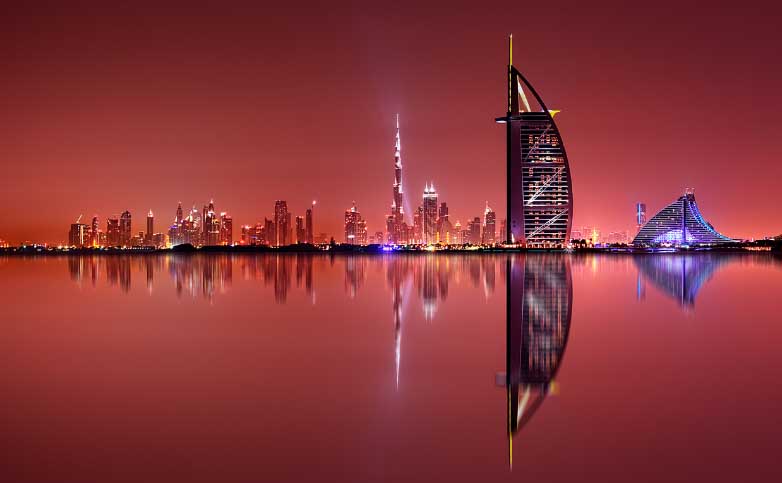 Honeymoon planning can be stressful, even though it sounds blissful. Booking flights, planning the budget, and selecting the best honeymoon destinations. Once you have chosen your honeymoon destination, you also need to keep many things in mind. While we think a honeymoon is all about relaxing, it can also be stressful. Share with us your thoughts if you are planning for your honeymoon in our comment section below! 
NepaliPage,connects Australian Nepalese Community & Australian Nepalese Business Globally
Disclaimer: NepaliPage.com (नेपालीपेज डटकम) is a Nepalese Community website aggregating Nepalese Australian affairs including Australian Nepali Community News, Migration opportunities in Australia, Nepali International Students, Nepali home and garden, Nepali mortgage and real estate tips, tricks, and services, Travel, Entertainment, Nepalese Events, blogs, interview and many more. None of our stories is tailored expert advice for your circumstance, and cannot be taken as legal, migration, or any other expert advice. By nature, all of our contents provide general information on related topics from the various verified sources. We do not offer direct employment opportunities, Australian VISA help, and Migration assistance.