Nepali e-passport is designed to work with contactless smart cards, using a microprocessor chip (computer chip) and antenna (for power and communication) embedded in the passport back or front cover. When you travel overseas, automatic gates at Airports will open by taping Nepali e-passport. 
Dear Readers,
Today's blog is specifically about how a biometric passport is expected to enable technological advancement? What is the Most Important Application of an e-passport or biometric identification card? And how can the abroad goers or Nepalese citizens apply for the Nepali e-passport in Nepal?
Since 2005, after the immediate launch of MRP we are hearing about the e-passport, not only that the ones who have taken up Nepalese MRP passport and travelling abroad have also faced a serious concern of not having an e-passport. Why is e-passport valued so much? Is it the security reasons or does it demonstrate the strength of the nations or is it a tech-friendly document?
Nepali e-passports: what are they?
E-passports are equipped with a chip that ensures the security of passport holders' information. E-passports come with a chip that provides advanced security features. By using the security features, the system will catch anyone trying to tamper with the chip. In addition, this passport cannot be tampered with, and it will not be misused.
An electronic passport (also called an ePassport, e-Passport, or a digital passport) contains an embedded electro processor chip that records biometric info having authenticated passport holder's identity. Passports are designed to work with contactless smart cards, using a microprocessor chip (computer chip) and antenna (for power and communication) embedded in the passport back or front cover.
The information required to verify the passport's authenticity is printed on the passport's data page, repeated on the machine-readable lines, and stored on the chip. An electronic passport chip contains data that must be authenticated using public key infrastructure (PKI). It makes the chip expensive and difficult to counterfeit when all security measures are correctly implemented.
Which is the first country to issue e-passport? Biometric passports are a common sight in many countries. It was Malaysia that issued the first biometric passport in 1998. By June 2017, 120 countries had issued such passports, compared to 60 in December 2008.
The three types of biometrics used to identify a person are facial recognition, fingerprint identification, and iris recognition. Several kinds of biometrics, including retinal scans, were assessed before these were adopted.
Passports will be issued using biometric file formats and communication protocols defined by the ICAO. Chips contain only the digital image (often in JPEG or JPEG2000 format) of each biometric feature. E-borders (e-borders) use electronic border control systems to compare biometric features outside the passport chip.
Read More: Nepalese e-passport, will this transformation shift the ranking of Nepalese passport?
It is equipped with a minimum of 32 kilobytes of EEPROM memory for biometric data, and it runs on an interface compliant with the ISO/IEC 14443 standard, amongst others. Different passport book manufacturers and different countries require interoperability with these standards.
A chip stores a person's biometric data as well. As an e-passport gets scanned within minutes, passengers will not have to worry about waiting in long lines at immigration counters.
It is difficult for fraudsters to alter the data recorded on biometric passports; the government believes they will help combat fraud and fake passports. But how? If anyone attempts to tamper with the passport chip, passport authentication will be invalid. E-passports cannot also remotely erase information on a passport.
What are the features of Nepalese e-passport?
1) The e-passport chip contains the applicant's personal information when it is digitally signed.
2) The e-passport's back and frontier portions will have thicker covers for better protection.
3) The e-passport will simplify passengers' travel as the information can be read immediately at immigration counters, saving time.
4) In the 1-passport, up to 30 international visits get stored on the chip, which has 64 kilobytes of memory.
How much does it cost to get a new Nepali e-passport?
The following are the cost details of the new e-passport. Nepalese citizen can avail the new passport from the District Administration Office or from the Department of Passport, Kathmandu.
| | | | |
| --- | --- | --- | --- |
| S.N. | Where do you get from | 34-page passport | 66-page passport |
| 1 | District Administration Office/ Passport Office | Rs.5000 | Rs.10,000 |
| 2 | Fast track e-passport (Department of Passport) | Rs.12000 | Rs.20,000 |
| 3 | USA, Australia, Japan, South Korea & Hong Kong | 150 USD | 200 USD |
| 4 | Russia and Cyprus |  80 Euro | 130 Euro |
| 5 | Other European Countries | 120 Euro | 170 Euro |
| 6 | Malaysia, Qatar, Saudi Arabia, UAE, Bahrain, Lebanon, Iraq, Oman, Jordon, Iran, Syria, Kuwait, Yemen and Israel | 50 USD | 100 USD |
| 7 | African countries | 80 USD | 130 |
Source: nepalpassport.gov.np
Likewise, people can apply online for the e-passport. They can login to the official website of the Department of Passport for the enrollment.
What are the guidelines before the pre-enrollment process for the e-passport in Nepal?
The following requirements must be met before taking up the procedure for the pre-enrollment of the e-passport.
The process of obtaining a passport begins with submitting a pre-enrollment application, followed by providing biometric information (photograph, fingerprint, etc.).
The filled-in application can be edited and appointment date can also be rescheduled within 15 days.
It is necessary to submit a printed copy of the pre-enrollment form with other required documentation. Applicants will need to log in again to get a new printout if theirs is lost.
An appointment gets cancelled if the Government announces a public holiday on the scheduled date. The applicant then needs to set another appointment within 15 working days or go to the enrollment station within the same time frame.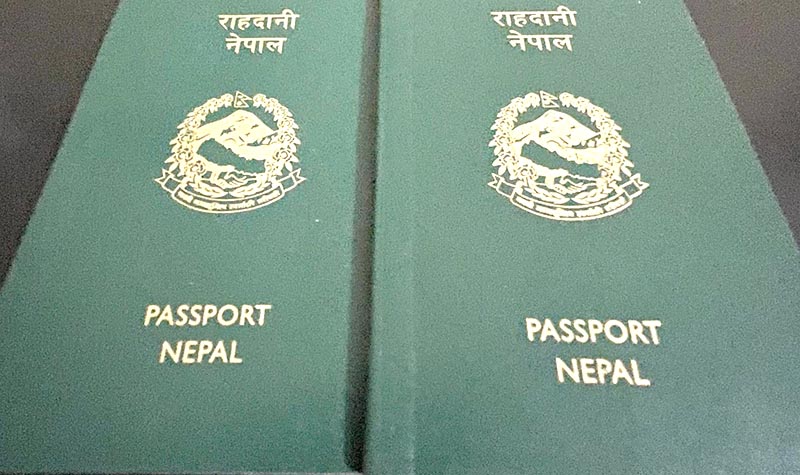 FREQUENTLY ASKED QUESTIONS for NEPALI E-PASSPORT
1. Is there an e-passport for Nepal?
On 17 November 2021, the government of Nepal launched e-passport services, with 102-year-old academician and cultural expert being the first to receive the chip-based identity document. At Tripureshwor in Kathmandu, Foreign Affairs Minister Narayan Khadka inaugurated the first e-passport personalization centre.
2. How can I fill my passport form online in Nepal?
Open the Department of Passport Web portal www.nepalpassport.gov.np.
Click on the "Online Pre-Enrollment Button on the top of the page. …
Read the instructions and check the acknowledgment checkbox and then click the Next button.
Fill in and submit the captcha correctly to start the Pre-Enrollment.
3. What is the cost of making a passport in Nepal?
Generally, the cost for making a fast-track passport is Rs. 12,000 within 3 days, Rs.10,000 within 5 days and Rs.5000 for 30 days.
4. What is the value of a Nepal passport?
There are 37 destinations in which Nepal passport holders can enter without a visa, with a visa on arrival, or via an electronic travel authorization. … Nepal's passport ranks 105th in the world.
5. When was the Nepalese passport introduced?
The establishment of the Department took place on 26 January 2012 (2068/10/12 B.S). Since the establishment of the Central Passport Office (CPO) on 25 May 2010 (2067/02/11 B.S), the Passport Section of the Protocol Division held the passport and travel-document, related functions.
NepaliPage,connects Australian Nepalese Community & Australian Nepalese Business Globally
Disclaimer: NepaliPage.com (नेपालीपेज डटकम) is a Nepalese Community website aggregating Nepalese Australian affairs including Australian Nepali Community News, Migration opportunities in Australia, Nepali International Students, Nepali home and garden, Nepali mortgage and real estate tips, tricks, and services, Travel, Entertainment, Nepalese Events, blogs, interview and many more. None of our stories is tailored expert advice for your circumstance, and cannot be taken as legal, migration, or any other expert advice. By nature, all of our contents provide general information on related topics from the various verified sources. We do not offer direct employment opportunities, Australian VISA help, and Migration assistance.