Repatriation flight to Nepal from Australia scheduled for 14 July 2020 has been confirmed. Nepal government approved the proposed flight plan by Australia Nepal Repatriation Flight Management Committee, a task force led by NRNA Australia. With this 153 parents and other Nepalese stranded in Australia can go back home through a semi chartered flight. The flight will take off from Sydney at 8.25 pm, and transit Singapore before landing Kathmandu. Those who are on 10 July travel list from Melbourne and Brisbane will take off 11.30 pm and 11 pm.
To make this happen, Nepalese Embassy in Australia formed Australia Nepal Repatriation Flight Management Committee on 30 June 2020 including NRNA Australia, Embassy, FeNCAA, ANMDA, ANJA and other involved stakeholders, worked tirelessly. Though more than 600 people expressed their interest, only 153 would get the opportunity to board for 14th July flight, effort to make a further couple of flights is on its way, it is known. 
In Nepal, Friday meeting of the Covid-19 Crisis Management Centre has decided to continue repatriation charter flights, rubbishing previous rumours. Tourism Secretary Kedar Bahadur Adhikari said, "The meeting decided to continue chartered flights but in limited numbers," to the press after the meeting, which strengthens the likelihood of 4th repatriation flights from Australia, which now NRNA & team focused. On 23 and 27 June 2020 first two initial repartition flight took off for Nepal, got massive criticism for travel fare. 14 July flight is quite cheaper than those, and upcoming flights are expected even less expensive than 14 July, as many options floating on the market. NRNA and team still working tirelessly to make a couple of reparation flights to Nepal in coming days, we are looking for options to reduce transport cost too, NRNA Australia president Keshav Kadel said.
NRNA Australia has released detailed FAQs about 14 July repatriation flight to Nepal make clear on matters travellers should know, here the full text: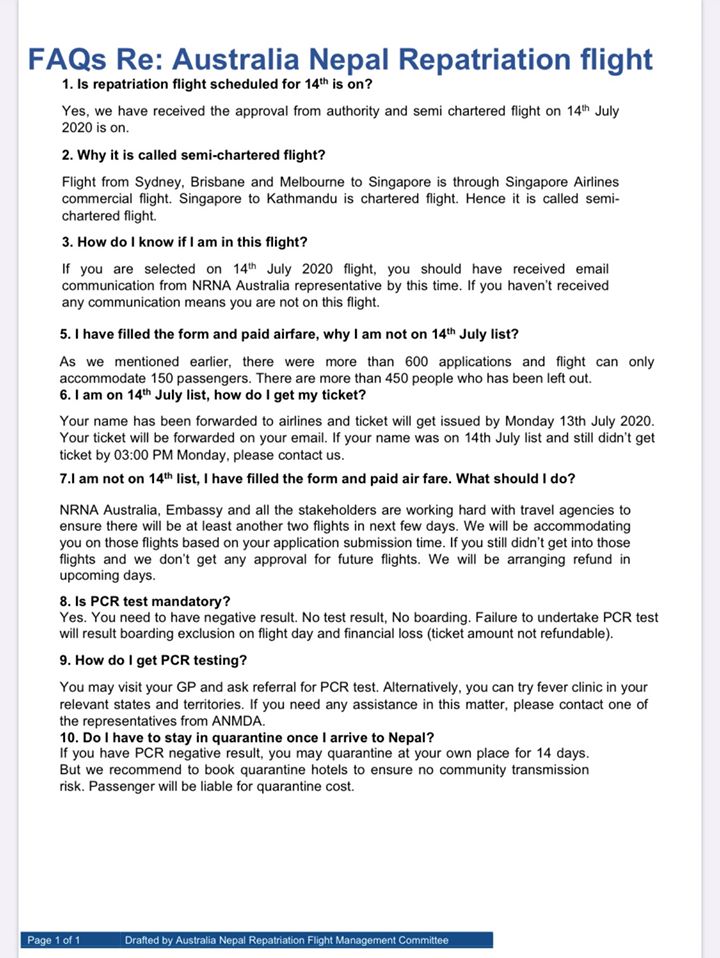 NepaliPage,connects Australian Nepalese Community & Australian Nepalese Business Globally
Disclaimer: NepaliPage.com (नेपालीपेज डटकम) is a Nepalese Community website aggregating Nepalese Australian affairs including Australian Nepali Community News, Migration opportunities in Australia, Nepali International Students, Nepali home and garden, Nepali mortgage and real estate tips, tricks, and services, Travel, Entertainment, Nepalese Events, blogs, interview and many more. None of our stories is tailored expert advice for your circumstance, and cannot be taken as legal, migration, or any other expert advice. By nature, all of our contents provide general information on related topics from the various verified sources. We do not offer direct employment opportunities, Australian VISA help, and Migration assistance.