The trending Corona Virus (COVID-19) seems to spare no one. From high socialite to ordinary people, the virus is spreading rigorously. Today, the home minister Peter Dutton got positively tested with Cronon Virus (COVID-19) and was admitted to hospital in Queensland.
The Federal Government frontbencher said he felt fine but woke up with a sore throat and a temperature.
Dutton recently had recently arrived in Australia after meeting senior Trump administration officials in States where they had a discussion about the data encryption policy and measures to fight against child exploitation.
As per the recently released health policy, when someone gets affected with COVID-19, health officials alert people who have come in contact with them and keep them in self-isolation for another 14-days.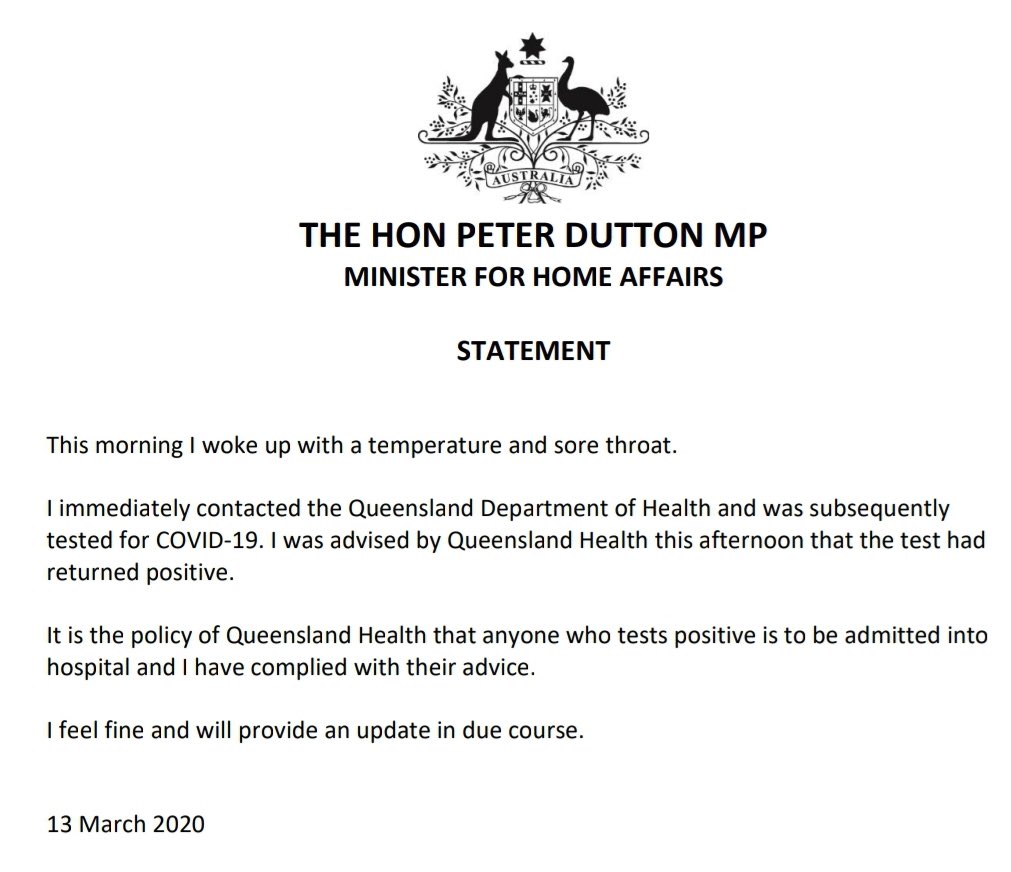 Peter Dutton, an Australian Liberal Party politician has been serving as Minister for Home Affairs since 2017, in a statement stated:
"This morning, I woke up with a temperature and a sore throat. I immediately contacted the Queensland Department of Health and was subsequently tested for COVID-19. I was advised by Queensland Health this afternoon that the test had returned positive."
Just before the confirmation, the Prime Minister and the premiers had decided that the gatherings of more than 500 people across Australia and travelers should be canceled.
Earlier this Friday, Prime Minister Morrison met with the state leaders to assess the response to the Corona spread in Australia before the Peter Dutton was tested positive the COVID-19.
Home Minister will remain in isolation till he fully recovers while the Prime Ministers and the Cabinet Ministers will not go in self-isolation.
So far, Australia tallies for Corona Virus at 156 with three fatalities cases.
NepaliPage,connects Australian Nepalese Community & Australian Nepalese Business Globally
Disclaimer: NepaliPage.com (नेपालीपेज डटकम) is a Nepalese Community website aggregating Nepalese Australian affairs including Australian Nepali Community News, Migration opportunities in Australia, Nepali International Students, Nepali home and garden, Nepali mortgage and real estate tips, tricks, and services, Travel, Entertainment, Nepalese Events, blogs, interview and many more. None of our stories is tailored expert advice for your circumstance, and cannot be taken as legal, migration, or any other expert advice. By nature, all of our contents provide general information on related topics from the various verified sources. We do not offer direct employment opportunities, Australian VISA help, and Migration assistance.