After 2 years in jail like COVID-19 Pandamic lockdown, planning the next holiday in Nepal would be a wise, adventurous, and financially suitable idea.  
A trek to Everest Base Camp with six American women organized by Col Jimmy Roberts in the 1960s was the first commercial trek in Nepal. National and international tourists have trekked around various Himalayan peaks in Nepal for the past 60 years, either to the mountain's summit or to its base camp.
Geographically, naturally, and culturally, the country is attractive for tourism. As well, in the mesmerizing Himalayan trails, you can experience a wide range of local cultures, foods, languages, and languages. It is possible to trek in Nepal during any season. The best time to visit is during autumn (September to December) and spring (March to May).
There are eight peaks in Nepal that exceed 8,000 meters and over 1,300 peaks above 6,000 meters, which provide ample opportunities for trekking, both to the summits and their respective base camps. Many similarly situated base camps in Nepal are less well-known but equally worthwhile, including Everest Base Camp and Annapurna Base Camp. When you go on your next vacation, why not visit one of these base camps? 
Do you have any thoughts or inquiries about the trek to base camp in Nepal? There is no doubt that the base camp trek on the mountain is the most famous and the most challenging. Among the top 10 peaks in Nepal, eight are among the highest peaks with a height greater than 600 meters. Nepal's Himalayan region features over 6000-meter mountains. There are numerous peaks in the Himalayas in Nepal, also known as the Himalayan kingdom. Nepal is best known for its base camp treks, which are the most popular tourism destinations.
In Nepal, the most popular trekking route is the base camp trek. Throughout the world, there are few views better than those seen at the base camp of Mount Everest. Apart from allowing you to explore Himalayan culture, lifestyle, landscapes, flora, and fauna, reaching a base camp is also determined. It is the most popular Himalayan trek in Nepal around the base camp.
Trekking in the Himalayas is fascinating and breathtaking. With the warm hospitality of Nepali people, travellers can experience many attractive views of the mountain range during the trek. Trekking to Nepal's base camp is one of the most memorable trips among the other Himalayan treks.
Nepal has several Himalayan peaks and base camps, but some base camps are especially renowned for trekking in Nepal Himalaya. Every year, many visitors come to this destination; it's a top destination and a top choice among travellers. Base camp treks in Nepal are among the top ten most popular excursions in the world.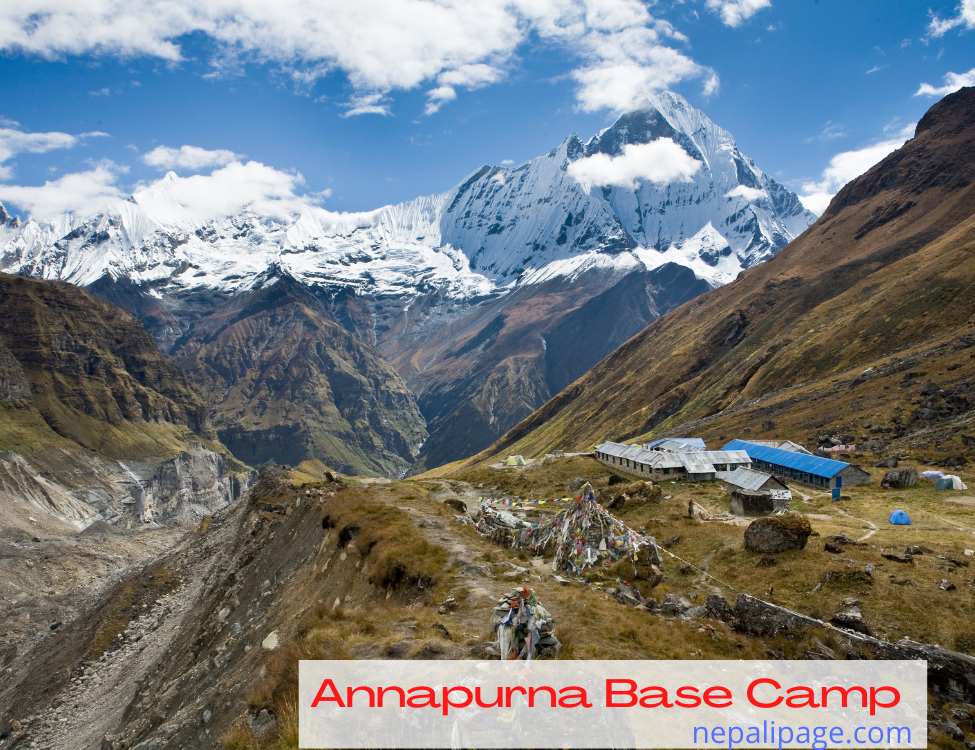 Annapurna Base Camp Trekking
Trekking to Annapurna Base Camp in Nepal is quite famous. It is located in the north-western Annapurna region. In the Annapurna region, base camp trekking is the most popular and challenging trip. Annapurna is one of the world's ten highest mountains. Trekkers can enjoy alpine meadows, forests, rivers, the Annapurna massif, lakes, waterfalls, caves, the local culture, as well as flora and fauna. Animals and reptiles, amphibians, and other fauna are found in the Annapurna region, Nepal's largest protected area. There is a moderate trek to the base camp, situated at 4130 meters above sea level. During the tour, you'll be able to see the massif Himalayan range, as well as other famous peaks. From spring to autumn, you can do the base camp trek. Therefore, you should visit the Annapurna base camp trek.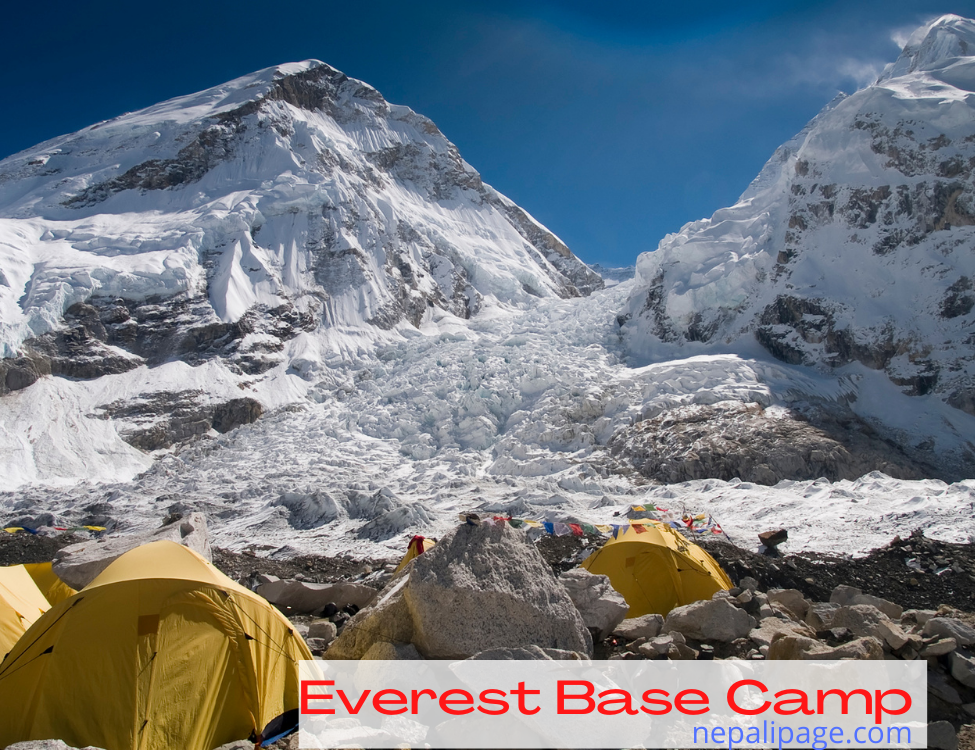 Everest Base Camp Trekking
The Everest Base Camp in northeastern Nepal is the most popular trek around the world and one of the toughest. As the world's highest mountain, Everest is 8848 meters high, and its base camp is at 5365 meters above sea level. It is also the most crowded trekking region in Nepal, with thousands of visitors each year. Spring and autumn are the busiest seasons in the Everest region and some months in the winter. It is a trek that offers unique Sherpa culture, lifestyle, close mountain views, flora and fauna of the Himalayas, rivers, and many unexpected Himalayan sights. Mountain adventure lovers will enjoy this trek because it is famous around the world. The Everest offers visitors a chance to marvel at uncountable mountain peaks and spectacular scenery. Everest base camp trekking can be accomplished within 12 to 16 days, with trekkers having the option to extend their trip or even include a second trek at an extra cost. It is an experience of a lifetime to trek to Everest base camp. The Everest base camp trek is a good choice if you are considering a base camp trek.
Trekking to the Manaslu Base Camp
One of the most popular holiday trekking courses in Nepal is at Manaslu base camp. Trekkers choose the Manaslu base camp and circuit as a great trekking destination. The Manaslu region of Nepal is the most popular trekking destination. Trekking Manaslu is a restricted route for which special permits are required. Manaslu (8153m) is the eighth highest mountain globally and Nepal's largest conservation area. It is a moderate trip around the Manaslu region since the base camp is 5215 meters high from sea level. There are stunning views of the mountain ranges and untouched natural diversity here, as can traditional Tibetan culture, traditional lifestyles, and breathtaking scenery in remote villages.
Trekking to Makalu Base Camp
For those seeking nature and tranquillity and solitary adventure, Makalu base camp trekking is an ideal destination. In addition to exploring an ethnic mountain community lifestyle, the Makalu trek provides the opportunity to experience a colossal landscape of snow-capped mountains, beautiful waterfalls, and many different kinds of plant life. The base camp is 5250 meters above sea level and has a genuinely magical vista with an adventure trip. 
In 22- 24 days, you can complete the trip by walking six hours a day. Its base camp trip is among the best in the world because of the excellent views offered by the trek from Makalu to Kanchanjunga range and the east face of Everest.
It's a more challenging trek, starting from above 3000 meters, and it is physically demanding in its own right. Therefore, it is advised that this trek is best suited for experienced mountaineers, and be sure to check with your doctor or local trekking agency before departing the mountain. Making your life adventure is part of the Makalu base camp trekking.
Dhaulagiri Base Camp Trekking
One of the best treks in Nepal is to trek to Dhaulagiri base camp, located west of the Himalayas. The name Dhaulagiri derives from Sanskrit; it means 'mountain of the dazzling'. Mount Dhaulagiri (8167m) ranks seven among the world's highest peaks, and its altitude at its base camp is 5360 meters above sea level.
Solitary trekkers tend to trek to base camp alone. For this reason, travel with a trekking agency or friends. Trekking offers a breathtaking view of Glacier Mountain, Dhaulagiri 1, 2, 3, 4 and Dhaulagiri 5, Dhaulagiri 5, Annapurna range, flora and fauna and many other untouched natural diverse views.
Trekkers are required to walk 6 hours each day during their trek to Dhaulagiri base camp. The trek can be completed in 13-23 days. In addition to the French pass, travelers must also pass a hidden gem called Dhampus pass. Jomsom and Pokhara are the starting and ending points of the trek.
Kanchenjunga Base Camp Trekking
In the north-eastern corner of Nepal, the Kanchenjunga base camp is located. Three out of the highest peaks on earth are topped by Kanchenjunga (8586m). 
A contiguous state of India is Sikkim, and a neighbouring district of Nepal is Taplejunga. Kanchenjunga comprises Kang- snow, Chen- big, Ju- store, and Nga- five. In Tibetan, the name is followed by five materials: gold, salt, a religious book, a weapon, and medicinal herbs. 
At Kanchenjunga 1's base camp, there are five mountain ranges: Kanchenjunga 1 (8586) Kanchenjunga west (8505) Kanchenjunga central (8482) Kanchenjunga south (8494) and Kangbachen (7903).
 In this area, you can also see a lot of wildlife animals such as blue sheep, snow leopards, different kinds of deer, red pandas, and other endangered species. Rhododendrons have been identified in 23 varieties in the Kanchenjunga area. Nepal's scenery is among the most breathtaking in the world. Tourists can experience many aspects of eastern people's lifestyle, traditional culture, and other exciting scenery during the trip.
Api Himal Base Camp Trekking
Nepal's highest mountain, Api Himal (7132m), is situated in the western region. Located to the west of Kathmandu, Mount Api Himal base camp is secluded and relatively untouched. As this area is entirely wild, visitors can experience the wonders of nature here. Visitors used to visit rarely, but now, more people are going there.
Among the attractions are beautiful mountain landscapes, unspoiled forests, mysterious cultures, fast-moving rivers, remote villages, and the lifestyles of local people. These mountains provide spectacular Himalayan views, including the Kappa Chuli peak, the Api Himal peak, the Rajramba peak, and the Nandadevi peak. Special permission from a trekking agency is required for travellers to hike in the Api Himal.
Trekking to Mardi Himal Base Camp
In the north-central part of Nepal, the Mardi Himal Base Camp is a newly discovered and hidden gem of the Annapurna region. The Annapurna route is spectacular and easy to traverse. It is also an incredible wilderness experience where visitors get to experience something unique than other Himalayan trips. Mardi Himal Base Camp Trekking provides many attractive flora and fauna, natural surroundings and vivid Himalayan landscapes, including Mount Machhapuchhare (Fishtail), Hiunchuli, and mounts Dhaulagiri and Annapurna. Mardi Himal Base is a great place to visit this season.
Trekking to the Churen Himal Base Camp
Fewer people are trekking to the Churen Himal Base Camp Trekking in Nepal, which lies northwest of the Dhaulagiri region. For trekkers who enjoy culture, nature, and a virgin landscape, the Churen Himal base camp trekking is perfect. There is a massive opportunity for trekkers to discover untouched beauty and pristine trekking destinations. A small number of tourists visit the Churen base camp every year, as it is a non-tourist area. In addition to blue sheep, snow leopards, snow leopard cubs, ghoral, black bears, snow leopards, dog deer, barking deer, birds, and pandas, many wild animals are also to view the trek.
Ganesh Himal Base Camp Trekking
Nepal's Ganesh Himal base camp trekking is one of the most adored tours, located in the north-central part of the country. It is possible to interact with diverse ethnic groups like Tamang, Newar, Gurung and others while on the trip.
This area's culture, landscapes, flora, and fauna are vibrant, making it very unique. A trip to the Ganesh Himal base camp is an adventure through the wilderness, offering sweeping views of the Annapurna range, Hiunchuli, Langtang range, Lamjung Himal, Manaslu range, and other unknown mountain peaks.
 Combined moderate trip in Nepal, the base camp elevation is around 4500 meters above sea level. With a trekking trail that offers a diversity of topographical features, the trek takes you from humid areas to pine forests, through alpine pastures, and to a massive glacier below snow-covered peaks in 18- 20 days. Ganesh Himal base camp trek in Himalaya Nepal is more excellent than any other Himalayan trek.
All excited to gear up for your next holiday destination in Nepal. Leave behind all those sky scrapers and connect with the nature for your holiday. Spend a good time in any of these 10 base camp's in Nepal, as these are stated to be the realistic heaven of Nepal.
NepaliPage,connects Australian Nepalese Community & Australian Nepalese Business Globally
Disclaimer: NepaliPage.com (नेपालीपेज डटकम) is a Nepalese Community website aggregating Nepalese Australian affairs including Australian Nepali Community News, Migration opportunities in Australia, Nepali International Students, Nepali home and garden, Nepali mortgage and real estate tips, tricks, and services, Travel, Entertainment, Nepalese Events, blogs, interview and many more. None of our stories is tailored expert advice for your circumstance, and cannot be taken as legal, migration, or any other expert advice. By nature, all of our contents provide general information on related topics from the various verified sources. We do not offer direct employment opportunities, Australian VISA help, and Migration assistance.